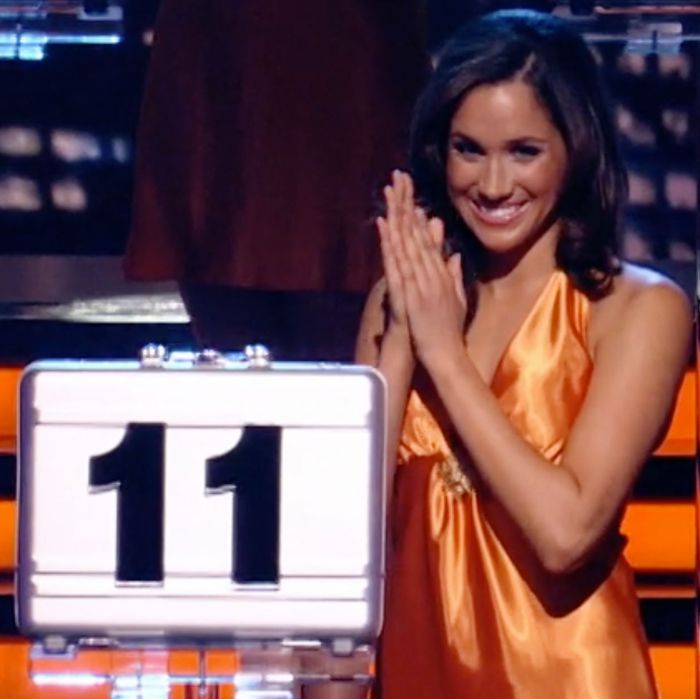 When Meghan Markle and Prince Harry made their romantic relationship public last year, you likely weren't able to escape the inevitable barrage of "Learn Everything About This Suits Actress" headlines. (If you didn't, kudos to you — she was the most Googled actress last year by a long shot.) And yes, although Markle achieved her biggest small-screen success as Rachel Zane on USA's popular legal drama, she has quietly been working in the industry since the early 2000s, taking on various one-off roles in cable and network television. We've rounded up all of Markle's most notable TV roles — only omitting a select few that didn't have corresponding video — for your viewing pleasure. Pour yourself a Pimm's Cup and enjoy.
In one of Castle's stronger mid-series episodes, Markle portrayed an evolved party girl who may or may not have murdered her friends to cover up an accidental murder they assisted with a decade ago. She even got to dress up as a pretty princess in one scene — what a coincidence!
Markle had a two-episode arc on everyone's favorite cult sci-fi series, as a junior FBI agent trying to wrap her head around all of this fringe nonsense. She mostly did some verbal sparring with Joshua Jackson.
Mark Duplass had the pleasure of briefly hitting on Markle's character at a bar. The two connect talking about how they hate magic and the fact that they're both divorced. It's a shame she didn't stick around for a few more episodes — the chemistry is there.
After a popular college student unexpectedly vanishes, Markle's computer-science teacher's assistant becomes a person of interest, owing to the fact she was having an illicit relationship with the student at the time. He was even planning on dropping the class to be with her!
Markle was a messy bitch who lived for the drama in a two-part arc of the 90210 reboot — her very first scene was giving a guy a blow job in a car, and she continues to wreak havoc on these high-school students' romantic entanglements until her quick departure.
As one of the game show's "briefcase girls," Markle appeared on four episodes alongside her fellow gals and Howie Mandel. She never held that infamous $1 million case, though. "I would put that in the category of things I was doing while I was auditioning to try to make ends meet," she later told Esquire. "I went from working in the US Embassy in Argentina to ending up on Deal. It's run the gamut. Definitely working on Deal or No Deal was a learning experience, and it helped me to understand what I would rather be doing … I would end up standing up there forever in these terribly uncomfortable and inexpensive five-inch heels just waiting for someone to pick my number so I could go and sit down."
Playing one of the quintessential "is she the murderer?" roles on CSI, Markle stripped down to her skivvies as a lovestruck maid who might've had a motive to kill her swim-champion employer. She would later stay in the franchise and appear as a police officer in CSI: Miami in 2010.
Michael Rapaport somehow believes Markle's bubbly colleague character is romantically interested in him at work, but she really has ulterior motives as this comedy of errors unfolds: She wants to set him up with her mom.
As Markle's second acting role (she previously appeared in the background as a nurse on General Hospital), she doesn't have much to do except say a quick toast on this sci-fi legal drama. But, hey, great pantsuit!