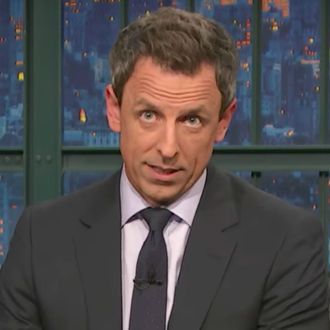 Seth Meyers.
Photo: Late Night with Seth Meyers/NBC
After Senator Al Franken was accused of kissing and groping TV and radio host Leeann Tweeden without her consent, he released a half-baked apology. Then he released a full apology, which wasn't much better: "While I don't remember the rehearsal for the skit as Leeann does, I understand why we need to listen to and believe women's experiences," his statement read. "I am asking that an ethics investigation be undertaken, and I will gladly cooperate." What did late night make of his mea culpa? Seth Meyers devoted a Closer Look to Congress's bipartisan harassment problem, including the scandals surrounding Franken and Republican Senate candidate Roy Moore. "[Tweeden] is wearing army gear [in the photo] because it's a USO tour, but honestly who could blame women if they started wearing army gear whenever they're around men?"
Colbert devoted time to Franken's initial succinct apology — the senator said the photo "was intended to be funny, but wasn't" — in the Late Show's opening monologue Thursday night. "Okay, intended to be funny but wasn't? Your movie Stuart Saves His Family was 'intended to be funny, but wasn't.' That photo was intended to embarrass her. That's why he did it while she was asleep."
Both hosts concluded: Bad, harassing behavior is bipartisan and goes all the way to the tippy top.