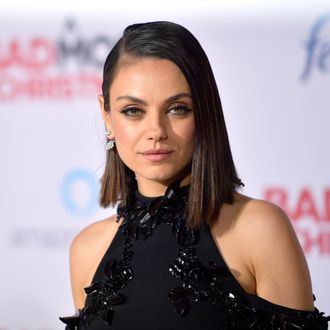 Photo: Matt Winkelmeyer/Getty Images
After Mila Kunis revealed on Conan last week that she donates to Planned Parenthood monthly in Mike Pence's name, counter-trolls have moved to retaliate. According to The Hollywood Reporter, several conservative Twitter users suggested that the vice-president's supporters should boycott Jim Beam, a liquor brand Kunis is a spokesperson for. Others suggested making reoccurring donations to the anti-abortion organization National Right to Life in Kunis's name.
During her appearance on Conan, the Bad Moms actress explained that she was not donating in Pence's name as a "prank," but instead as "a peaceful protest." Kunis explained, "I disagreed with some of the stuff that Pence was doing and was trying to do. And so as a reminder that there are women out there in the world that may or may not agree with his platform I put him on a list of recurring donations." As part of the donation, the conservative politician receives a "thank you" letter from the organization. In addition to Kunis's contribution, the nonprofit has received at least 82,000 donations in Pence's name as a reaction to the VP's agenda.