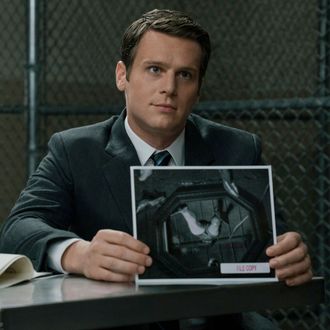 Which murderer will Holden befriend next?
Photo: Patrick Harbron/Netflix
Though the clues were all already there, Netflix has made it official: Mindhunter is renewed for season two. The David Fincher drama, about the real-life FBI team who were the first to psychoanalyze and define serial killers, will live long enough to see one of its own almost definitely become the villain. We're onto you, Jonathan Groff! Keep close watch on young psychopath in the making Holden Ford, who's teetering awfully close to the edge after unintentionally (or is it?) befriending murderers. And what of our possible mystery killer, the ADT guy from Kansas? His story has gradually unfolded each episode in brief cold opens with little context and even less resolution. We last saw him burning suspicious illustrations of violently bound women that he may or may not have drawn from life. Will he ever be revealed as the BTK killer? The hunt continues!