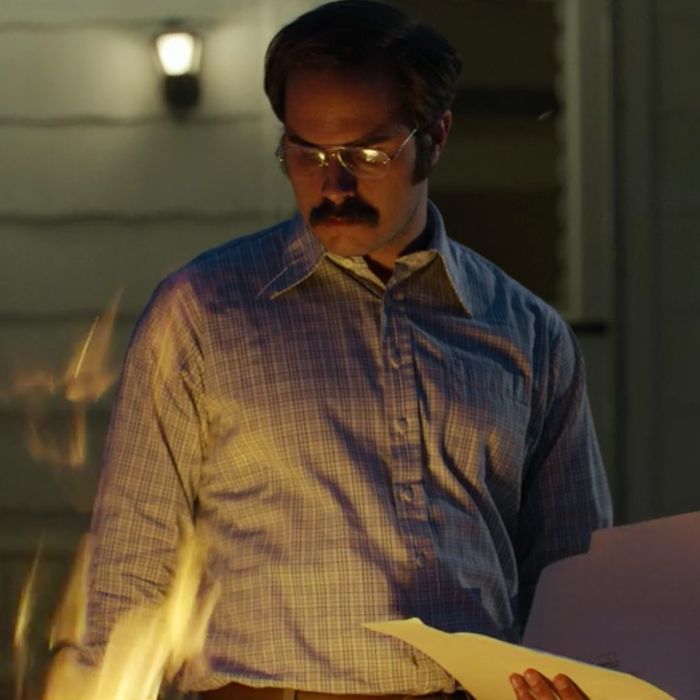 The first season of Netflix's Mindhunter ends with a cliff-hanger: The FBI's Behavioral Science Unit has been betrayed by one of its own, and Agent Holden Ford is last seen hyperventilating after getting a little too personal with a serial killer. With such an open-ended finale, there are certainly high hopes for the show's second season. The unfortunate fact that there are plenty of cases and interviews left in the book Mindhunter: Inside the FBI's Elite Serial Crime Unit — which written by John E. Douglas, the actual FBI agent who inspired Ford's character — means Mindhunter still has a lot of serial killers to investigate.
So, what's to come in Mindhunter season two? We already know a few things: Director and executive producer David Fincher told Billboard that one of the major cases will be the Atlanta child murders of 1979 to 1981, in which a serial killer took the lives of 28 African-Americans, mostly children under the age of 15. In an interview with Vulture, Holt McCallany suggested that the show might feature Charles Manson and David Berkowitz, two serial killers who were briefly mentioned during season one.
Nevertheless, there are a lot of things we don't know. Will Holden Ford keep meeting with Ed Kemper? Is Holden himself actually a psychopath? When will the FBI begin looking for the BTK killer? And will Dr. Carr ever get a cat? While we wait for those answers, let's dig into the pages of history to try and predict which cases might be featured in season two. Below are Vulture's best guesses, based on Douglas's book and the known serial killers of the late '70s and early '80s.
The Potential Cases
Dennis Rader
After appearing in short scenes throughout season one, the BTK killer is sure to play a major role in season two, though it almost certainly won't involve his capture. In real life, Rader's murders spanned from 1974 until 1991, only pausing for a period after his wife caught him wearing women's clothing, and the police did not actually catch him until 2005. However, there's a theory that the unsolved murder of Ada Jeffries and her son — which Mindhunter featured in its very first episode — is actually the work of the show's version of the BTK killer. (He used the same knots in other murders and he was a member of a local church council, suggesting the importance of the church and broomstick.) Although none of Rader's actual victims lived in Fairfield, Iowa, it's not too far from Wichita, if Fincher and Mindhunter creator Joe Penhall have decided to take creative liberties with the case.
The Stocking Strangler
In early 1978, the town of Columbus, Georgia, was rattled by a serial killer who called himself the Stocking Strangler. He had already assaulted six elderly white women before the chief of police received a letter from a group calling itself the Forces of Evil. The group was allegedly seven white men who assumed the Stocking Strangler was black and in retaliation would kill a black woman if the Strangler was not caught by June 1. The identities behind the Stocking Strangler and the Forces of Evil are part of what made the case so interesting, but if you'd like to learn more details, you'll find them here.
David Carpenter
The capture of the Trailside Killer is a rather fascinating case in Douglas's book. Carpenter killed at least ten people along hiking trails near San Francisco between 1979 and 1981, and Douglas nailed Carpenter's unique criminal profile so precisely that the local cops accused him of being psychic. If this case appears in Mindhunter, expect it to happen when Holden is back on his A game — unless it's yet another push down the slippery psychological slope.
Carmine Calabro
Although this serial killer isn't as well-known as Rader or Carpenter, his crime does not lack in horrific detail. In 1983, Calabro killed and mutilated schoolteacher Francine Elveson on the roof of her Bronx apartment building. Carmine and Francine were both white, and race played a huge a part in the case: Local police wanted to nail a black man for the crime, due to evidence they found on the body, but FBI profilers were sure that a white man committed the murder. If this case gets included, it'll likely be akin to the Altoona murder from season one — a longer investigation that Mindhunter uses to explore the tense collaborations between feds and local police.
The Potential Interviews
Charlie Davis
Later in Douglas's career, he began interviewing inmates in groups, which allowed him to quickly gather insights and test theories. One session in the early 1980s yielded a particularly interesting case, after he asked the inmates if there were any "rapist-murderers" he should talk to. They suggested Charlie Davis. While he isn't an especially well-known killer, Davis's interview marked the very first time that Douglas went into an interview cold. Douglas knew nothing about him, yet he was able to pinpoint the who, what, when, where, and why of his crimes effortlessly. It seems like a no-brainer to include in the show, though it depends on how far into the future Mindhunter plans to go.
John Wayne Gacy
For those lucky enough to not know, John Wayne Gacy, a.k.a. the Killer Clown, was an Illinois man who raped and killed nearly three dozen young men, burying 29 of them in a crawl space of his home. The rest of his victims were thrown into the Des Plaines River. Most of the victims were identified, one as recent as July 2017, while six still remain unknown. Gacy would find his victims while cruising or by hiring young men for his construction company. When his workers disappeared, he would claim they didn't show up for work. Gacy was sentenced in 1980, so if the show continues on its current timeline, he seems like a candidate for one of Ford's interviews — especially considering our current cultural obsession with scary clowns.
Herbert Mullin
Both Edmund Kemper and Herbert Mullin were active during the same time and location, making Santa Cruz one very scary place to live. In the early 1970s, Mullin, who suffered from paranoid schizophrenia, brutally killed 13 people out of a belief that he could stop earthquakes in California. Mullin's interview could add a valuable discussion to Mindhunter about mental health, and how FBI agents handle criminals who struggle with mental disorders.
Ted Bundy
The unnervingly charismatic Bundy murdered more than 33 women between 1974 and 1979, killing many in his Volkswagen Beetle — a car just like the one Debbie drives in the show. He was particularly fond of brunettes with their hair parted in the middle — again, much like Debbie's. Ann Rule, a famous crime writer, was friends with Bundy and was completely taken aback when his actions came to light. (She would later write a book about Bundy, titled The Stranger Beside Me.) His charm and the extent of his crimes make Bundy a likely interviewee for season two, but if Mindhunter plans to introduce him, it won't be jumping too far ahead: He was executed by electrocution in 1989.
Ed Gein
Gein was found guilty of one murder in 1957, though he admitted to another homicide. While other serial killers had more victims, what makes Gein's case uniquely deranged is what he did with human bodies: He would dig up recently deceased women and take their body parts to make bowls, leggings, and lampshades. His horrific crimes would inspired several fictional villains, including Leatherface of The Texas Chainsaw Massacre, Norman Bates of Psycho, and Buffalo Bill from Silence of the Lambs. Gein ultimately died from illness in a psychiatric hospital in 1984, but at the pace Mindhunter is going, don't be surprised if he winds up sitting across from Ford in season two.