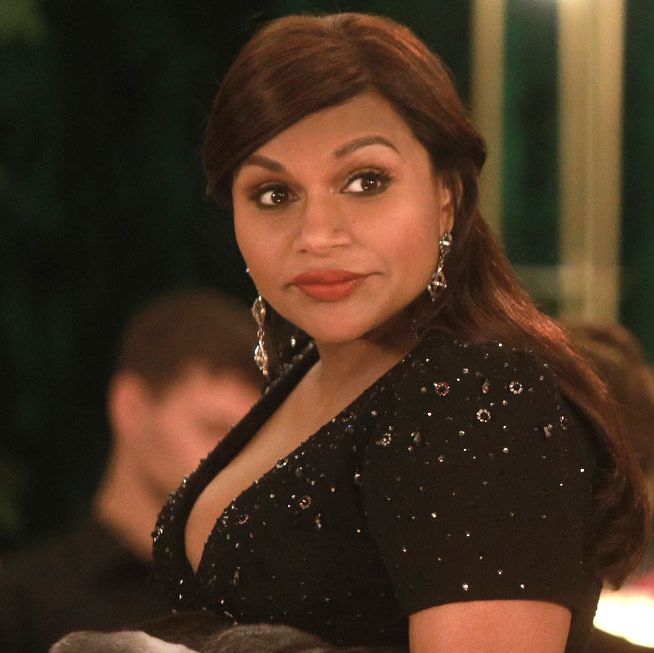 Mindy Kaling as Mindy Lahiri.
Photo: NBCUniversal Media
Throughout its six-season run, The Mindy Project has been known for its A-list guest stars, from James Franco to Reese Witherspoon. But on the series' penultimate day of filming, the biggest names on set are a Newfoundland named Tiny, who's slobbering on the boss's velvet shoes, and a wirehaired mutt who goes by Christie Brinkley. They're here because Morgan (Ike Barinholtz) and Tamra (Xosha Roquemore) are getting married and starting a family, and she has a bit of a problem living with so many dogs. Morgan's hatched a plan to give his canine pals away to his friends and colleagues. "You're here on the craziest day of all," says creator and star Mindy Kaling. "We've never had so many dogs. A Newfoundland drooled on my Guccis — somehow that seems appropriate for this show."
In 24 hours, the doors to Shulman & Associates will close forever and the series finale will be in the can. But spirits are mostly high on set. Maybe the dogs are helping. "It's hard to feel sad on this set just because it's so much fun and hysterical all the time, but there's definitely a feeling of … I don't know, how you can be nostalgic when you're still in something, but there's definitely a sense of that," said Rebecca Rittenhouse, who plays Anna. "I didn't really expect to be here for more than a few episodes, and it's just been incredibly joyous."
For Kaling, who has lived with Dr. Mindy Lahiri for 117 episodes, letting go of the romantic, food-loving ob-gyn with a fantastic wardrobe is proving more difficult. "It wasn't easy to write the ending, but it was easy to recognize what was right in the moment," Kaling said. "We'd be talking about it, and I realized this is what it has to be because the character is so defined. She just enters a room and downloads her entire philosophy and she thinks she's right. When you have characters with big personalities, like Michael Scott or Jack Donaghy, it's easier to come up with stories for them. So that was one of the blessings of having a character like her — it's just fun to write."
The season began with Mindy married to nurse Ben (Bryan Greenberg), a marriage that only lasted ten months. By the time we get to the finale, "It Had to Be You," Mindy's been flying solo and is more grounded than she's ever been as a single mother, business owner, and physician. At the same time, she's doubting whether she deserves love at all since she couldn't make it work with a good guy like Ben.
"The writers all pride ourselves on being feminist, and we roll our eyes at the character in a fun way," Kaling said. "We love her because she feels she needs a man to be complete, and I think that reflects a lot of what women think. Certainly a lot of my friends — and even when I when I was younger — felt that way. But we don't believe that, and we don't want to give her what she wants, so we put her through that experience and showed her it's not enough so hopefully she can be a little more woke in the process."
That doesn't mean fans aren't holding out hope for a reconciliation with Danny (Chris Messina), who returned this season and isn't handling his mother's (Rhea Perlman) cancer diagnosis well. "Oh my god, the fans are so weird!" says Roquemore. "Every season, it's 'Where's Danny?' He's literally been in every season since he left. He's always in at least two or three episodes. Where's Danny? I'm like, chill out!" But Roquemore admits she, too, has a soft spot for Mindy and Danny. "They have a kid," she says. "I like families sticking together."
No one on set will even hint at the possibility. But Kaling is satisfied Dr. Lahiri is on the right path. "I think she gets what she needs, but not what she wants, which to me is a happy ending because what she wants is insufferable," she said. "She wants to be married to like the third Kushner brother and live in a castle and have four biracial children and be rich beyond compare. I mean, you could never give her that. So we talked about what she needs, and all you want is for the characters to be headed in the right direction, where they're all going to be challenged, but content."
Barinholtz, who initially was hired as a writer and was later cast as Mindy's best friend, said he sobbed during his final scene between Morgan and Mindy. "Whatever jobs we have next, we'll always be chasing this kind of feeling because as the face and brain of the show, Mindy was always exceptionally talented and fun, but also very caring," he said. "I think we're really lucky that we came about in an era where identity was exciting, where you weren't worried every day about dying or your relatives getting deported. It was a gentler time in our country. I think art will now start being reflective of what we're seeing in life. This is a show that definitely makes you happy, and that's one of the reasons I'm sad it's ending."
Though the show is set in New York City, it's filmed at Universal Studios, across from at the stages where Will & Grace 2.0 tapes. The success of NBC's reboot has made the possibility of a Mindy Project reunion at least fathomable to its creator and cast. "I hope when we come back for our reunion in ten years, everyone is older with their old dogs and we all meet in the dog park once a week and talk about our lives and what it's been like since North Korea bombed us," Ed Weeks, who plays Jeremy, half-joked.
Kaling says she's not ruling anything out. "It would be great to check in with her after a period of time. I love her," she said." "But I don't know how long that period of time is. I think we do a pretty good job at the end of the season of giving you a feeling like you've reached the end of her story. But who knows?"