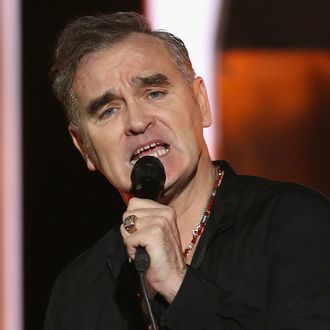 Photo: Chris Jackson/Getty Images for Nobel Peace Prize Concert
Earlier this month, Morrissey came out strongly in defense of Kevin Spacey in the wake of the actor's sexual-assault scandal, calling the claims leveled at Spacey "ridiculous" and possibly the result of victims feeling "merely disappointed." Now, in a new interview with The Sunday Times, the singer reiterates his defense of both Kevin Spacey and producer Harvey Weinstein, while downplaying the allegations leveled at both.
"You must be careful as far as 'sexual harassment' is concerned because often it can be just a pathetic attempt at courtship," Morrissey says. "I'm sure it's horrific, but we have to keep everything in proportion. Do you not agree? I have never been sexually harassed, I might add." As has been previously reported, Kevin Spacey was accused of sexual harassment, sexual assault, and making sexual advances on multiple then-underage young men, after Star Trek: Discovery actor Anthony Rapp revealed an incident in which the House of Cards star attempted to seduce him when Rapp was 14. Harvey Weinstein, meanwhile, faces sexual harassment, sexual assault, and rape allegations from dozens of women who have come forward to make claims against him.