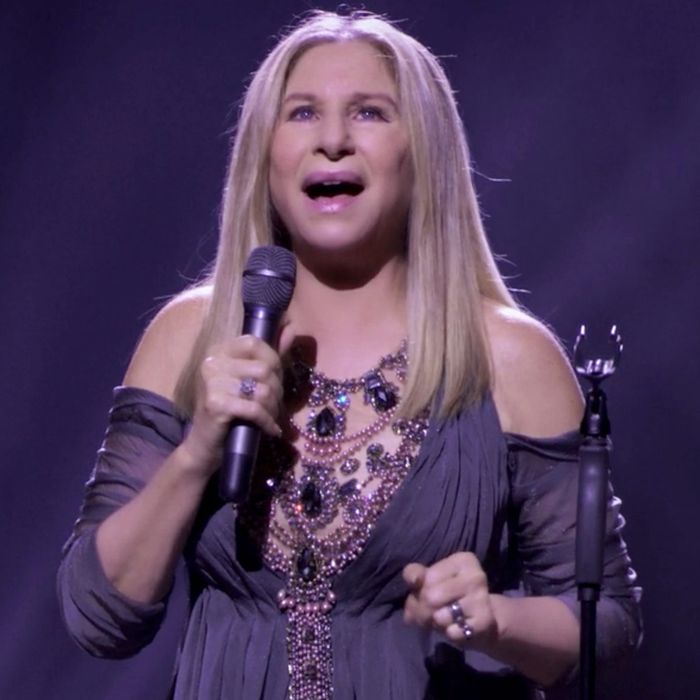 If you're at all familiar with Barbra Streisand, you know exactly what to expect from her Netflix concert film, Barbra: The Music …The Mem'ries …The Magic!, which debuts November 22. Seemingly built for the express purpose of pleasing parents whose kids teach them how to use Netflix over Thanksgiving, the special is Barbra at her most idiosyncratic. She sings! She sways! She talks about Funny Girl! She orders crab! In honor of one of America's most image-obsessed diva's debut on streaming, we present a round-up of the movie's Barbra-iest Barbra moments.
1. It opens with Barbra playing cards on a private plane on her way to Miami.
One assumes she is winning.
2. Barbra stops by an ice-cream truck before her performance.
She'd like to sample one of the mocha flavors.
3. While doing her own makeup, Barbra talks about how proud she is of doing her own makeup.
She looks great.
4. There are several talking-head moments in which people talk about how great Barbra is.
They are charming.
5. Barbra says "It's been a very interesting time in the news recently" and then raises her hands "but I'm not going there because we'd be here all night!"
She then covers Carole King's "Being at War With Each Other," and at one point, the screen behind her displays the word "war" crossed out.
6. She performs next to a teapot, teacup, and a vase with roses.
They make for some lovely mise en scène, though their presence goes unexplained.
7. She introduces her take on Donna Summers's "No More Tears (Enough Is Enough)" with "I sang this song when I was trying to be hip in the '70s."
Afterward, she talks about how much she loves her backup singers, who dance around her.
8. She briefly duets with a younger version of herself, who is humming and playing guitar in a scene cut from A Star Is Born.
Barbra says she now thinks the scene should not have been cut from A Star Is Born.
9. Her performance of "Papa Can You Hear Me?" includes piped-in sounds of a thunderstorm.
It's eerie.
10. She calls into a stone-crab restaurant during intermission to make sure they are preparing her order for after the show.
She orders often from the stone-crab place in question.
11. The camerawork pays much attention to the way Barbra's dress billows.
It does look very nice.
12. She talks about global warming as a segue into "Pure Imagination."
Behind her, we see gorgeous photos of wildlife.
13. Barbra on singing with Hugh Jackman: "I got to sing with Wolverine. I thought I had long nails, you know?"
She also includes other clips from her Movie Partners album, including a scene where Melissa McCarthy asks her if she really has a private Starbucks. (She neither confirms nor denies.)
14. Barbra pauses during "Don't Rain on My Parade" to watch a little bit of Funny Girl.
Barbra also sings a song from Funny Lady, and explains most of the plot of both.
15. Barbra brings out Jamie Foxx to compliment her, and then do an impression of her.
Jamie Foxx's Barbra impression is really good.
17. Computer-generated snow fills the screen when Barbra sings "Jingle Bells."
Barbra makes a joke about how Santa doesn't ride a sleigh anymore, he takes an Uber.
18. Barbra brings out her dog Sammie at the end of the show.
She says Sammie knows exactly when the show is supposed to break.
19. Barbra decides not to walk offstage and come back for her encore, as she knows everyone wants the encore already.
She later goes offstage and returns with Sammie, and then goes offstage again to return for another encore.
20. It ends with Barbra happily enjoying her crabs.
As well as a Key-lime pie, which looks fantastic.
21. After the closing credits, there is a tribute to Sammie, who died in May.
And, I'm crying.