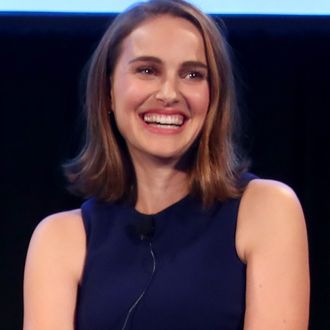 Photo: Joe Scarnici/Getty Images for Vulture Festival
So it turns out that — much like you — Natalie Portman reads Vulture. But unlike you, reading Vulture is how she got to be friends with Broad City's Abbi Jacobson. At an event related to the Toronto International Film Festival in 2015, Portman disclosed her love of Broad City despite the fact that it made her feel insecure about Garden State, the movie she made during her senior year at Harvard that has been roundly mocked by Jacobson and Ilana Glazer on their hit Comedy Central series.
"Such a great show, maybe the funniest," said Portman of Broad City at Vulture Festival L.A. on Sunday, adding that she'd even be happy to appear on the show in spite of the fun they've had at her expense. "I've sort of tangentially been on it because they make fun of Garden State all the time. So I love it, and I laugh at it, and I think it's hilarious. But then people are like, 'I love Garden State.' Now I'm like, You're a dork." Portman maintains that despite calling it dorky, she is "super-proud" of the millennial touchstone, and after reading a Vulture post about her Broad City shout-out at TIFF, Jacobson and Glazer tracked her down to apologize. "They're really good friends with my second cousin, and they e-mailed me. They were like, 'We're so sorry. We love you. It's just a joke.' And I'm like, 'I get it, I love you, too.' And we've hung out."
And now for the next part of the story where Oscar winner Natalie Portman deviates from the average consumer of entertainment news online. Portman and Jacobson happened to be in the City of Light at the same time over New Year's Eve, and so they spent the holiday together, just as Vulture intended. "We're not like, best friends, but she happened to be in Paris on New Year's and was like, 'What are you doing during this time?'" Portman said. But then Jacobson dropped in on the Portman-Millipieds party, and the Jackie star got insecure that Jacobson's takeaway was: "Wow, you're dorkier than I thought." So now you know how to be friends with Natalie Portman: Be a super-dork, create your own hysterical show for Comedy Central, and most important, be sure to regularly read Vulture.