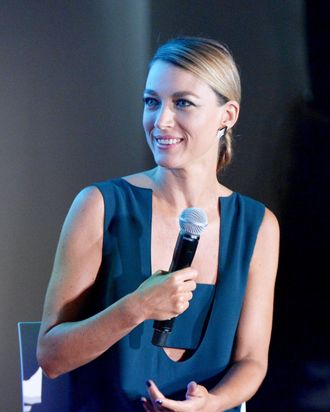 Natalie Zea.
Photo: Charley Gallay/Getty Images for Vulture Festival
At Vulture Festival Los Angeles this past weekend, Detour stars Jason Jones and Natalie Zea revealed that playing on-the-run parents Nate and Robin for three seasons has possibly created a too free-and-easy approach to parenting their real-life children.
"Jason has said, 'There is now no difference between you and your character,'" Zea said. "She's kind of fucking crazy, fucked-up as a mom. I hope I'm a better mom than she is. But as a person I think she's pretty great. I'd be friends with her."
The actress too has noticed the lines are blurring. "I've gotten a talking-to a couple times for maybe being a little too candid with my daughter, who is 2," she said. "My husband will be like, 'I really don't think you should have said that out loud to her.' This is a direct result of playing this part. I'm blaming Robin."
For Jones, who has three young children with fellow Detour creator and Full Frontal host Samantha Bee, the series — which returns January 23 for its third season — has only reinforced the couple's commitment to truth-telling.
"When they ask, 'Is Santa real?' I go, 'What do you think?'" said Jones. "They say, 'I don't think he is.' And I go, 'I wish I could lie to you.' I tell the truth if they want to know the truth."
Added Jones about his son Fletcher, 9:  "He was in school with Jewish friends, so he kinda already knew."