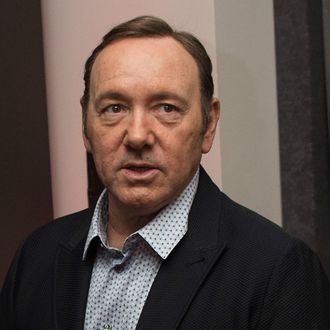 Photo: NICHOLAS KAMM/AFP/Getty Images
On Tuesday, Netflix suspended production on the sixth season of House of Cards following allegations of sexual harassment and assault made against its star Kevin Spacey. CNN subsequently published a report in which eight people alleged Spacey sexually harassed and assaulted young men on set. Now, in the wake of more men stepping forward to accuse the actor of assault and harassment, Netflix has apparently decided that Kevin Spacey will have no part in any of the streaming platform's upcoming productions.
"Netflix will not be involved with any further production of House of Cards that includes Kevin Spacey," a Netflix spokesperson told Variety in a statement. "We will continue to work with MRC during this hiatus time to evaluate our path forward as it relates to the show. We have also decided we will not be moving forward with the release of the film Gore, which was in post-production, starring and produced by Kevin Spacey." While Spacey has not been explicitly let go from the show, Netflix's statement seemingly suggests House of Cards has two options going forward: Fire Spacey or find the series a new home. House of Cards was in early production before public allegations against the actor started to mount earlier this week.