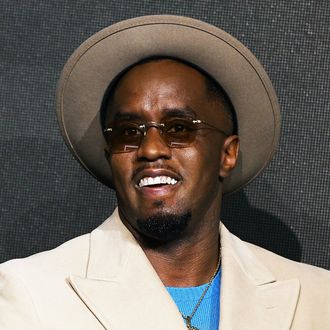 Photo: Slaven Vlasic/Getty Images
American Idol took its final bow on Fox last year … and then (almost) immediately stood right back up again and kept singing. (The series is now scheduled to appear on ABC this coming spring.) However, with the announcement of their new show The Four: Battle for Stardom, Fox is back in the singing-competition game. Now, according to TVLine, we also know who will be crushing and/or making young singers' dreams come true on Fox come January 4.
Diddy (a.k.a. Brother Love), DJ Khaled, Meghan Trainor, and record-label executive Charlie Walk will reportedly serve as judges on the show, which will feature four preselected singers who must compete against new contestants each week for their slot in, you guessed it, the top four. "This show is going to disrupt the world of competition television and will revolutionize the format," Diddy told TVLine. "It took the right show and network to bring me back in the game. We plan on being the best talent show out there, taking it to that next level and making history again." While the format of the show might hint at AI or The Voice, Diddy's presence brings us, of course, all the way back to MTV's Making the Band. Dare the world hope for another Danity Kane?
Sources