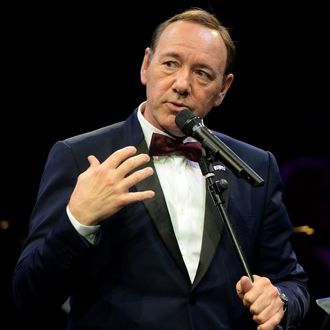 Photo: Samir Hussein/Getty Images
In the wake of allegations that Kevin Spacey sexual assaulted young men while serving as the artistic director at the Old Vic, the London theater conducted an investigation into the actor and received 20 personal testimonies of inappropriate behavior on his part. Sixteen members of the theater's staff and four others came forward with various allegations of incidents that took place from 1995 to 2013, the majority of them before 2009. Spacey served as the theater's artistic director from 2004 to 2015, and in its report, the Old Vic noted that a "cult of personality" existed around him at the time. No "legal claims, formal grievances, formal disputes, settlement agreements or payments" were made in relation to Spacey during this time period, and the Old Vic noted that a "cult of personality" around the actor likely prevented the junior staff and young actors he targeted from speaking out.
The allegations were a "shock and a disturbing surprise to many of us," according to the theater's current artistic director Matthew Warchus. "I have genuine and deep sympathy for all those who have come forward and said they were hurt in some way by my predecessor's actions," he said. He also noted, "It is incorrect, unfair and irresponsible to say that everybody knew. But as a result of the investigation, what we have learnt is how better to call out this behaviour in future." After actor Anthony Rapp accused Spacey of sexual harassment, many have come forward with allegations against the actor (including targeting underage men) that begin as early as 1981. Spacey has not commented on this latest set of allegations.