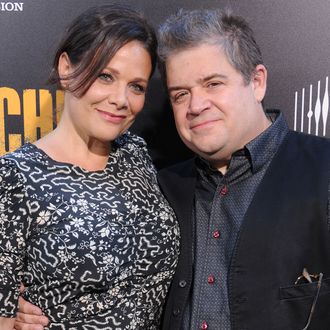 Photo: Gregg DeGuire/WireImage
Big congratulations to this happy couple are in order! Patton Oswalt and Meredith Salenger were married this weekend, with the duo announcing their newfound marital bliss on social media. "What'd you guys do yesterday?" Patton cheekily tweeted this morning, with Salenger adding shortly thereafter on Instagram: "True love. True happiness. Forever and Always. The Oswalts." The duo, who were introduced thanks to their mutual friend Marcia Plimpton, previously announced their engagement in the summer, which was made possible by Oswalt's creative Scrabble skills.
Oswalt's marriage comes about a year-and-a-half following the sudden death of his first wife, Michelle McNamara. He has been public about discussing his grief over McNamara's death, especially due to the fact they were parents to their young daughter, Alice. Now 8 years old, Alice was the "world champion" flower girl at her father and new stepmother's wedding.
Congrats again, you three.