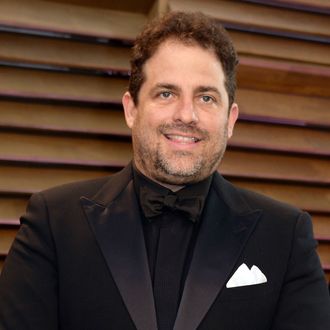 Ratner.
Photo: Clint Spaulding/Patrick Mcmmullan
Playboy has realized that a Hugh Hefner biopic directed by Brett Ratner is just as bad an idea as it sounds. Per The Wrap, Playboy Enterprises has put its business relationship with Ratner on hold in response to the news that six women have accused the director of sexual harassment. "We are deeply troubled to learn about the accusations against Brett Ratner," a Playboy Enterprises spokesperson said. "We find this kind of behavior completely unacceptable. We are putting all further development of our projects with RatPac Entertainment on hold until we are able to review the situation further."
In addition to this news, Jared Leto's reps have claimed that the actor was never going to play Hefner in the film in the first place. "Jared Leto is not and was not attached to a Brett Ratner directed Hugh Hefner film, nor will he be working with him in the future. Earlier reports were incorrect and not confirmed by his representatives," the actor's representatives told Deadline.
Ratner had reportedly pursued the project for years, and also planned to develop a reboot the 1960s TV series Playboy After Dark.