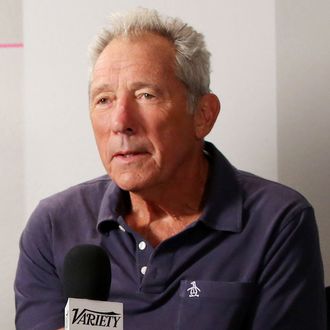 Israel Horovitz.
Photo: Jonathan Leibson/Getty Images for Variety
In one of the first major stories of sexual misconduct in the theater world since London's Old Vic received 20 allegations against Kevin Spacey, nine women have spoken to the New York Times with claims of sexual misconduct, including assault and rape, against playwright Israel Horovitz. Horovitz, now 78, is the Obie-winning author of more than 70 plays including Line, Park Your Car in the Harvard Yard, and The Indian Wants the Bronx. He was the founding artistic director of the Gloucester Stage and served in the role for 28 years. He acted as a mentor for many young women, and allegedly used his power to prey on them. One woman, Maddie Corman, told the Times that Horovitz "pressed her against a wall and forcefully kissed her" as she was preparing for an Off Broadway play she was performing in at 16. Another, Jocelyn Meinhardt, who was dating his son, describes Horovitz offering to drive her home, locking the car door, kissing and fondling her, and then leading her to his bedroom, where she claims he raped her.
In 1993, ten women accused Horovitz of sexual harassment and assault in the Boston Phoenix. Gloucester Stage president Barry Weiner dismissed the allegations and described some of the women as "tightly wound." The theater cut ties with Horovitz last week after learning of the experiences described by Maia Ermansons with Horovitz that she had published in a Facebook post last year.
In response to the Times' reporting, Horovitz said he has "a different memory of some of these events, I apologize with all my heart to any woman who has ever felt compromised by my actions, and to my family and friends who have put their trust in me. To hear that I have caused pain is profoundly upsetting, as is the idea that I might have crossed a line with anyone who considered me a mentor."
Horovitz's son, Adam, best known as Ad-Rock of the Beastie Boys, also issued a statement: "I believe the allegations against my father are true, and I stand behind the women that made them."