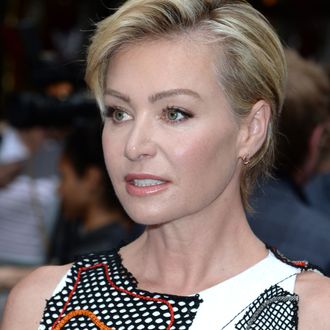 Portia de Rossi.
Photo: Anthony Harvey/Getty Images
One of the stories unfolding alongside the avalanche of sexual-assault and harassment allegations against Harvey Weinstein is the emerging pattern of abuse from actor Steven Seagal. The latest woman to come forward is Portia de Rossi, who shared a very uncomfortable casting-couch story about Seagal on Twitter today.
Over the weekend, Julianna Margulies said the actor once baited her to a late-night "audition" in his New York hotel room on the condition that the female casting agent setting up the encounter would also be present. The woman never showed up, leaving Margulies alone with Seagal, who started showing her his gun, but she was able to leave before anything happened. Actress Lisa Guerrero also recently told the Los Angeles Times about a similar experience with Seagal, but in her case the female casting agent was present, and he greeted both of them at his front door wearing nothing but a silky robe. In 1998, Jenny McCarthy accused Seagal of repeatedly telling her to take off her clothes during a casting session for Under Siege 2, and a former assistant once sued him for sexual harassment and trafficking women for sex, though she later dropped the charges.
Like Margulies, the allegations made by de Rossi get at one of the biggest systemic issues being laid bare as the culture of sexual harassment in Hollywood is confronted: the complicity or indifference of talent agencies, representatives, and support staff in allowing abuse to happen. Weinstein assistants were frequently used as honeypots in encounters described by his more than 50 accusers. Rachel McAdams says she was given no warning about James Toback's reputation before being sent to audition with him, and when she complained to her agent after being assaulted by him, was told, "I can't believe he did it again. This isn't the first time that this has happened." And now in de Rossi's account, her complaint was greeted with a response of, "I didn't know if he was your type." Stay tuned, because this story likely has a long way to go.