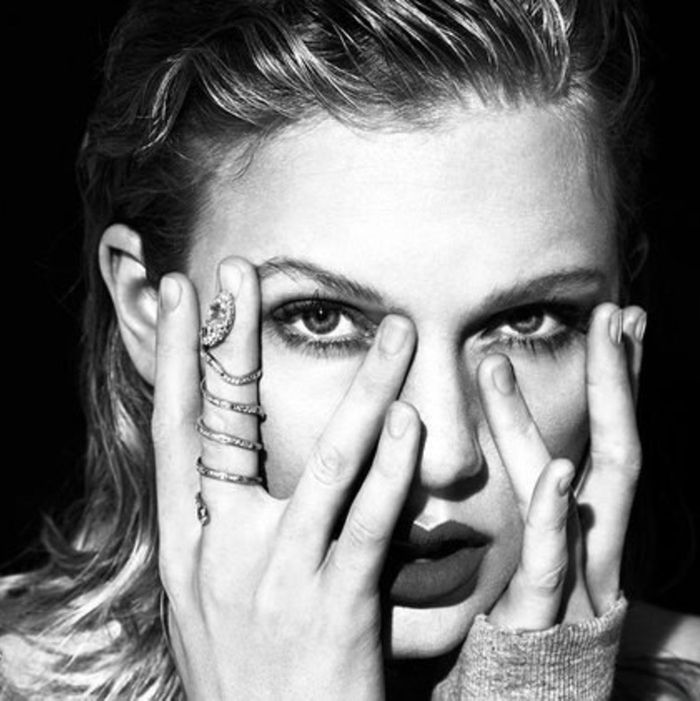 Taylor Swift has never been content to rest on her laurels, and it shows perhaps most prominently in her singles — not just their quality, but their volume. Her self-titled debut had five singles, as did her sophomore triumph Fearless; Speak Now and Red had six singles apiece; seven tracks from 1989 were released for radio out of a total of 13. In this regard, Reputation looks likely to set a new record. From its 15 tracks, four have already been released as prerelease singles (compared to no more than two for other albums), and a fifth, "New Year's Day," while not quite a single, has already been played on television twice.
Given her track record and her desire to set new records, it's not likely that Swift will simply leave off pushing Reputation after its release and put out no new singles; the question is not if, but when, which, and how many. The timing is unpredictable, but estimating the chances of which of the 11 remaining tracks will become singles, based on intuition and somewhat arbitrary guessing, is certainly within our power. So, without further ado, here's a run-through of the tracks not yet released as singles on Taylor Swift's Reputation and their likelihood of seeing the spotlight.
"End Game (feat. Future and Ed Sheeran)"
Single probability: 100 percent. No one puts Future and Ed Sheeran on a track (the only track on the whole album, mind you, with guests) with the intention of it becoming a deep cut. Some critics thought the artists didn't mesh well; we thought they went together fine. A big song about big reputations with three big stars; this isn't just guaranteed to be a single, it's almost a lock to be a No. 1 song.
"I Did Something Bad"
Single probability: 40 percent. We should add that nearly all of the songs on Reputation are geared toward radio. It's actually not impossible that Swift would pull a power move and release every song as a single. The bombastic, wheezing synths that back up the chorus here make this song less than ideal for radio play, let alone radio traction, but even so, the odds aren't that against its elevation to single status.
"Don't Blame Me"
Single probability: 30 percent. Certainly loud enough for radio, but its slow pace makes it less than danceable and the hook isn't anything to write home about.
"Delicate"
Single probability: 90 percent. Given that the Diet Caribbean™ percussion and Coolly Tropical™ keyboards on display here have been the foundation of countless Top 40 singles over the past couple of years, it's all but certain that this song, backed by a music video, has a decent future on the charts.
"So It Goes…"
Single probability: 70 percent. A pleasing demeanor and anthemic stature combine to make this a sporting candidate for radio and YouTube, though a lack of texture and rhythm might detract from its potential.
"Getaway Car"
Single probability: 80 percent. There's a propulsion on this track that feels both (a) cheaply earned, and (b) no less effective for its cheapness. Which is fitting given the title: When it's love on the run, you can't be too picky about details.
"King of My Heart"
Single probability: 65 percent. Intense, complex, intermittent drums keep this track from dissolving in vocoders and keyboards, but the titular hook is a little too stately to withstand much airplay.
"Dancing With Our Hands Tied"
Single probability: 85 percent. This song hasn't yet gotten the recognition it deserves, but it's one of Swift's most masterful creations ever — a harmonious fusion of pathos, poetry, and speed. There's an emotional urgency here which gets channeled cleanly through a pressing rhythm that's suitable for repeated listens. She can be sad about dances with a bygone lover and get listeners to dance for her in the present.
"Dress"
Single probability: 55 percent. The gossamer-and-trap production never quite matches the sensuality its lyrics refer to, but that doesn't keep it from being a capably executed track. Still, you can't call it something durable enough to survive exposure on its own.
"This Is Why We Can't Have Nice Things"
Single probability: 90 percent. Snotty and catchy in equal measure, this track seems all the more likely to receive the single treatment for being a Kanye diss. We can't call it a good track per se, but it's definitely a tenacious earworm, and ultimately that's what counts for radio saturation.
"New Year's Day"
Single probability: 5 percent. There's a good reason why this song debuted as a recorded live performance played during a Scandal commercial break surrounded by worshippers at her Rhode Island mansion and a solemn rendition for the Tonight Show: They're ideal venues for a song too quiet and pensive to climb the charts but which still deserves attention. No trace of banger can be detected on Reputation's slow, piano-centered epilogue; it's a reminder that Swift used to make music in a different tone, and proof that she still can.
So how many singles will there be, roughly speaking? Add up the probabilities and you'll reach a whopping total of 7.1 singles; add that to the four singles already on record and we're looking at a rather frightening projection of 11.1 singles. It sounds ludicrous at first, but when you consider how much expense Swift has already invested in the album's supersaturation, 11 singles seems less preposterous and more like precisely the kind of challenge Swift would set for herself, to be sure, but also for her ardent fans. Will the Swift hive have the stamina to lift its demigoddess to unprecedented heights on the charts, or will Reputation fall short of the chart standards set by Fearless and 1989? Regardless of how many singles there actually are, we'll find out in the coming months.