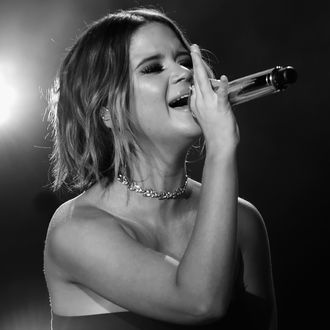 Singer-songwriter Maren Morris is nominated for a CMA Award, and has advocated for tighter gun control.
Photo: Rick Diamond/Getty Images
The Country Music Association wants the upcoming Country Music Awards to be as apolitical as possible. To make sure of that, the CMA sent out a list of guidelines to media outlets detailing what topics will be off limits on the red carpet as well as in the press room at the event. If any journalists were planning on bringing up the Las Vegas shooting, gun control, or "political affiliations or topics of the like," they risk having their press credentials revoked, as this statement published by Rolling Stone makes clear.
It's vital, more so this year than in year's [sic] past due to the sensitivities at hand, that the CMA Awards be a celebration of Country Music and the artists that make this genre so great. It's an evening to honor the outstanding achievements in Country Music of the previous year and we want everyone to feel comfortable talking to press about this exciting time. If you are reported as straying from these guidelines, your credential will be reviewed and potentially revoked via security escort.
Singer-songwriter Maren Morris, who is nominated for a CMA Award, has spoken in favor of tighter gun control, and wrote a song called "Dear Hate" in the wake of the Vegas shooting. The guitarist for the Josh Abbott Band, Caleb Keeter, posted a note on Twitter about how the music-festival tragedy changed his views on gun laws in the United States, but it sounds like neither he nor Morris will be talking about the issue at the CMAs unless they bring it up first.
Update, November 3: The CMA Awards has issued a statement apologizing for the restrictions distributed to the press, saying they were made with the "best intentions to honor and celebrate country music." The association will no longer enforce the ban. Following the initial news, the show's longtime co-host Brad Paisley tweeted his disappointment, calling the guidelines "ridiculous and unfair."