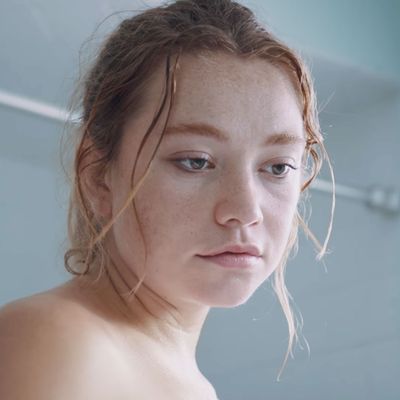 Jessie Pinnick in
Princess Cyd.
Photo: Wolfe Video
There is something vaguely utopian about Princess Cyd, the new film by writer-director Stephen Cone. In a way that I can only describe as Miyazaki-esque, there is, for the most part, a noticeable lack of onscreen threat in its sleepy suburban Chicago setting. The story's main act of violence remains offscreen, referred to in the film's opening moments via a 911 call reporting a murder-suicide that left our protagonist motherless and brotherless at age 8. With that tragic and half-remembered act in the distant past, Cone's film feels like it's willing the world to be a benevolent place his characters can believe in, the kind of place where the neighbors come over to recite poetry and you can walk into a coffee shop and meet a cute stranger. Not a lot happens in Princess Cyd, but it's hard not to watch this film without feeling changed.
Cyd (Jessie Pinnick) is 16 when we meet her, having been abruptly sent off for a couple weeks to live with her aunt Miranda (Rebecca Spence). Some domestic unhappiness is kept between the lines, but her father seems to think she needs some "time out of the house." So Miranda, an acclaimed author living unmarried and childless in the house she grew up in with Cyd's mother, takes the kid in, despite not having seen her since she was a child. Cyd is a soccer player, who announces unceremoniously that she "doesn't really read" when Miranda attempts to interest her in her book collection. As their first couple days together pass by, Miranda and Cyd regard each other with a kind of bemused curiosity. Cyd takes to "lying out" in the yard in her bright-red, retro two-piece; a scene where she asks Miranda to put sunscreen on her back finds a completely different note for that typically prurient teen-movie trope. In Princess Cyd, other people are not abstract ideas to work with or against, but very tactile bundles of likes and dislikes and experiences.
It would be easy for Princess Cyd to slip into a kind of pat odd-couple simplicity; two very dissimilar women forced to live under the same roof, fighting and learning things. But Cone continually dodges the expected beats for this kind of story, which is less about conflict and more about coexistence. One of Cyd's first requests upon arrival is the Wi-Fi password, but it's not a "teens these days" punch line. Cyd is not dumb, but she's probably not going to be the same kind of smart as Miranda, and in Cone's generous worldview, that's totally okay. Spence plays Miranda, an intellectual Christian and bookworm who hasn't had sex in five years, beautifully and without judgement — it's one of the warmest and best performances I've seen this year. Miranda's chief worry at first is not that Cyd's presence will cramp her style, but that she'll be bored. But in the tensest exchange between the two, after Cyd makes a crack about her sex life, Miranda passionately defends her version of joy in a startling, eloquent speech.
Cyd, for her part, "likes everything." Pinnick's effortless radiance, her sleepy eyes and nearly perpetual half-smile could be mistaken for jock-ish dullness, but are really the look of untarnished youthful curiosity. She's a roving inhaler of sensation, trying to figure out what she wants from the world and what captures her imagination. She's got a "sort of" boyfriend back home, but she falls instantly for a barista with a Mohawk named Katie, with very little anxiety or stress over her sexuality or what it means for her identity. We're watching her form her identity onscreen, through her relationships with Katie and Miranda and pretty much everyone else who crosses her path. Searching for an outfit for a writerly soirée, she spots a tuxedo in Katie's brother's closet and takes to it with a breezy lack of self-consciousness that anyone over the age of 18 will watch with more than a little envy.
Storm clouds come and go, but in Cone's film any pain can seemingly be relieved by the simple, generous act of liking someone — not to possess them, but to have your world changed by them. Princess Cyd is a wonderful movie to live in for this reason; it's full of hope and empathy, as are its two leads. This is a film that believes finding joy in each other is not just what we should do but what we are naturally inclined to do, and man, oh, man, do I want to believe that right now.