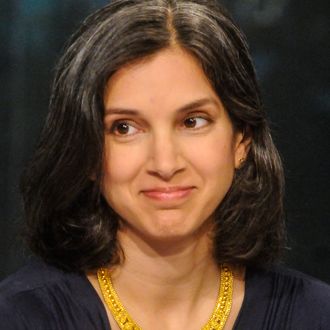 Photo: William B. Plowman/NBC NewsWire via Getty Images
Radhika Jones has officially been named the next editor of Vanity Fair, as previously reported by the New York Times over the weekend. The 44-year-old Jones, who is currently the editorial director of the Times' books department, will be the first woman to helm the magazine since Tina Brown's 12-year reign ended in 1992. Brown's successor, Graydon Carter, announced in September that he would be stepping down from the role, one of the most prestigious jobs in all of media. An announcement from Vanity Fair's publisher, Condé Nast came this Monday.
Prior to her tour at the Times, which has only lasted a year, Jones was the deputy managing editor at Time, where she'd worked since 2008 and managed special projects including the Time 100 list and the magazine's Person of the Year feature. Before that, she was a managing editor at The Paris Review and had also worked at Grand Street and Artforum. As Recode's Peter Kafka points out, it remains to be seen how Condé Nast will expect Vanity Fair, including the editor role, to evolve in the post-Carter era — especially since no successor is likely to get the same resources that Carter has had. Kafka reports that Condé Nast told job candidates "that they'd like them to reimagine the magazine, its digital properties and its conference business — but that the titles budget would be shrinking, as Condé looks to continually squeeze costs."
Other candidates for the job, according to the Times report, included Hollywood Reporter–Billboard Media Group co-president Janice Min, Marie Claire editor-in-chief Anne Fulenwider, Times editor Andrew Ross Sorkin, and Vanity Fair digital director Mike Hogan. The editor search has been managed by Condé Nast's CEO, Robert Sauerberg, and the company's artistic director, Vogue editor-in-chief Anna Wintour.