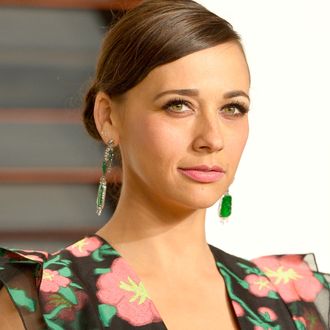 Photo: Pascal Le Segretain/Getty Images
After the chief creative officer of Pixar and Walt Disney Animation Studios, John Lasseter, announced earlier today that he was leaving for a "sabbatical" due to unspecified "missteps," reports began circulating about Lasseter's alleged behavior. One article from The Hollywood Reporter detailed a pattern of misconduct and cited rumored "unwanted advances" from Lasseter as the reason Rashida Jones and her writing partner Will McCormack left Toy Story 4 — an account Jones denies. In response to the story, Jones told the New York Times that she and McCormack discontinued working on the movie's screenplay due to the studio's treatment of women and people of color in general.
Jones and McCormack issued a joint statement to the Times. "The breakneck speed at which journalists have been naming the next perpetrator renders some reporting irresponsible," they said. "We did not leave Pixar because of unwanted advances. That is untrue. We parted ways because of creative and, more importantly, philosophical differences." They added, "There is so much talent at Pixar, and we remain enormous fans of their films. However, it is also a culture where women and people of color do not have an equal creative voice."
As the Times points out, only one out of Pixar's 19 feature films has a credited female director.
The story about Jones leaving due to unwanted advances was aggregated by several other publications, though THR did write in the article that Jones and McCormack had not responded to requests for comment.
According to reports from Vanity Fair and Variety, Lasseter allegedly had a long history of making women employees feel uncomfortable with close hugs and mouth kisses. Lasseter's behavior was allegedly largely excused because of his massive creative output — many heralded him as the most important person in animation since Walt Disney.