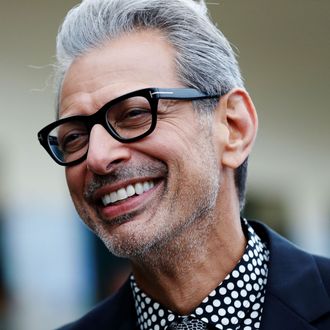 Goldblum himself.
Photo: Charly Triballeau/AFP/Getty Images
Jeff Goldblum can dish it out, but he can also take it. We're speaking here, obviously, about compliments. Goldblum, as we shared on Vulture, is always ready with nice things to say about his co-stars, and as GQ now proves, his co-stars also have many nice things to say about him. GQ has assembled an "oral history" of Goldblum — a strange concept, since Goldblum is a person who is alive and not a historical event — that's full of various celebrities saying nice things about him. The best of it comes when a series of people attempt to describe Goldblum's voice, a thing of supernatural quality too good for this world, in the flawed mode of communication that is the English language. Starting with Edward Norton:
Norton: Jeff's voice is the way I've always imagined a shrink who uses hypnotism would sound.




Taika Waititi (director, Thor: Ragnarok): It's the sound of the Pegasus in the last moments before it takes flight, just as the hooves are lightly caressing some soft, wet moss and slowly lifting off the turf.




Ellie Kemper (Unbreakable Kimmy Schmidt, season 2, 2016): Like a jazz-station deejay. So smooth, man!




Willem Dafoe: One long ribbon of transmutating verbiage with hiccups in it.




Nick Kroll: There's…very little…uhhhhh…actual silence. It's like, um…how would I descriiibe it? It's like riding a bike…through like a…a hilly suburb.




Olivia Munn: Jeff Goldblum does a great Jeff Goldblum.




Jeff Goldblum: I like David Duchovny's impression on SNL's "Celebrity Jeopardy!," where he played a stupid Jeff Goldblum with this little ballet of wordless faux graciousness. He names things he sees for a while—"Uhhh, microphone"—and then finally admits, "I actually can't read."
Simply… uhh…. umm…  wuhhh… fantastic.