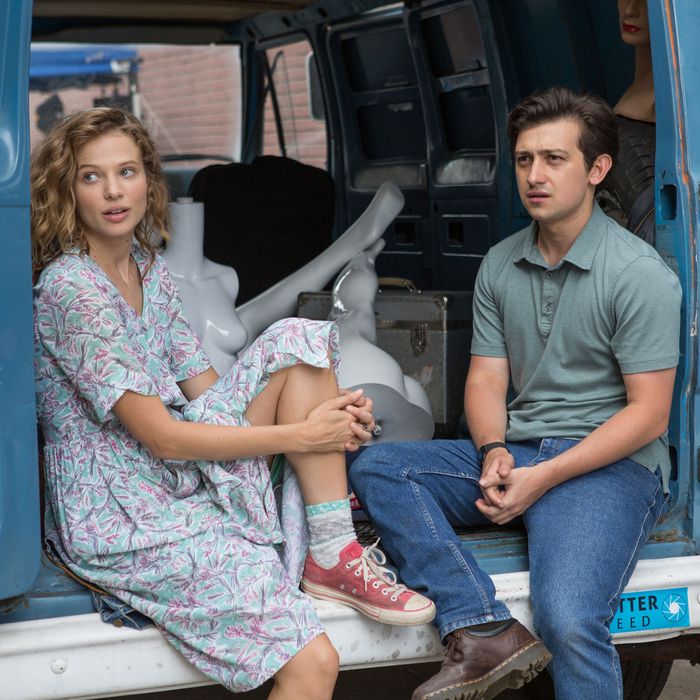 Photo: Eric Liebowitz/Amazon Prime Video.
In mid-October, Amazon released the third and final season of Red Oaks, the streaming platform's most underrated original series. The '80s-set coming-of-age show follows college student and wannabe filmmaker David Meyers (Craig Roberts) who gets a summer job working at a local country club as he tries to figure out his future. While working there, he meets and falls in love with Skye (Alexandra Socha), the daughter of the club president Doug Getty (Paul Reiser), a Wall Street crook with a heart of gold. Meanwhile, his parents (Richard Kind and Jennifer Grey) slowly drift apart and discover new things about themselves in middle age; his intelligent stoner friend Wheeler (Oliver Cooper) woos the out-of-his-league lifeguard Misty (Alexandra Turshen); and various forces constantly threaten the cherished Red Oaks club.
On the surface, Red Oaks might seem like merely a fun trifle, but co-creators Gregory Jacobs (Magic Mike XXL) and Joe Gangemi never rested on the twin laurels of period nostalgia or superficial pleasures. Instead, they crafted a sweet, perceptive comedy-drama about trying to outrun time and circumstance, the terror of adapting to change, and the bone-deep fear of not living up to one's potential. It went down like comfort food, but was ultimately more nutritious than advertised. If you missed out on Red Oaks — and you probably have — here are five reasons why it's worth watching.
It Was So Much More Than an '80s Homage
Though Red Oaks didn't satirize or parody classic '80s comedies, it certainly owes a debt to them. Its Caddyshack-esque premise, the notable appearance of Jennifer Grey in the main cast, and a pilot episode that basked in snobs versus slobs motif suggest a series that would never shift out of a retro gear. Yet Red Oaks never totally fit that mold, even when it indulged in cheap thrills. The way it broke down characters' stereotypical images — high-school sweetheart, stoner friend, rich girl, repressed parents — neatly encapsulates the series' belief in not judging a book by its cover.
There are too many examples to name, but a few standouts capture the show's sensitive heart. Judy, David's mother, begins the series as a nag, but after separating from her husband, embraces her financial independence as well as her queer identity. Meanwhile, David's father, Sam, struggles to hold onto control and his antiquated beliefs, but by the end of the series, he adapts and takes his own risks in love and work. David's high-school girlfriend Karen (Gage Golightly) initially comes across as a domestication-obsessed overplanner, but Jacobs and Gangemi treat her dreams of family and stability as equally valid as David's filmmaking career. Skye abandons the shackles of her rebellious rich-girl identity, accepting failure and her own limitations in the process. Wheeler gets in touch with his sensitivity to win Misty's heart rather than leveraging his drugs and boyish behavior. Red Oaks believed that identities are constantly in flux, and that it's always important to give people an opportunity to showcase their true selves.
Its Truly Great Soundtrack
Obvious needle drops are a frequent problem for period pieces. It's sometimes just too tempting to use well-known pop songs to signal a time period and to engender cheap nostalgia. From its first season, Red Oaks stood apart just by using '80s-era music that never felt overly familiar. Music supervisors Gabe Hilfer and Devoe Yates packed the soundtrack with the likes of Blue Shoes, the English Beat, Love and Rockets, and Talk Talk. When they used songs by bigger names, like Roxy Music or New Order in the second season, the moments felt earned and avoided clichés.
The final season continued this trend, giving prominent placement to the Woodentops' "Give It Time" in the first episode and opening the third with "Knife" by Aztec Camera. Hilfer and Yates even featured David Bowie's underrated "Day-In Day-Out," a song that had never appeared on a film or television soundtrack before. They ultimately closed out the series with two key songs: Ringo Starr's "Photograph" and Lou Reed's "New Sensation," to capture the passing of a bygone era and the embrace of a new one. Sometimes good taste and an excellent ear can really make the difference.
It Had a Killer Lineup of Directors
Executive produced by Steven Soderbergh (Logan Lucky) and David Gordon Green (George Washington), Red Oaks has no shortage of talent behind the camera. The series made a point of collaborating with beloved, yet sadly underpraised directors who made their name in the '80s and '90s, such as Amy Heckerling (Clueless), Hal Hartley (Henry Fool), and Gregg Araki (The Doom Generation).
While television necessitates an overarching house style, these directors nevertheless managed to place their stamp on their episodes. Heckerling's episodes either traffic in period immersion ("Body Swap" and "After Hours") or romance, young and old ("The Bris" and "Independence Day"). In Hartley's episodes, he brings spark to smaller two-person scenes, like David and Karen rekindling old feelings ("Old Flames") and David and Skye's disastrous fight ("The Anniversary"). Araki, meanwhile, tackles bigger comedic set pieces, like a hospital visit following a failed road trip ("Lost and Found") and a rocky wedding reception ("The Wedding").
It Was Made by Movie Lovers
Though his filmmaking talents are limited to filming bar mitzvahs and brises, David longs to be a director and see his name in a theater someday. In the meantime, he fashions himself a cinephile, weaned on watching movies with his father and making discoveries on his own. But Jacobs and Gangemi don't phone in the details or the references: In one episode, David and Skye sneak off to the city and catch a showing of Eric Rohmer's Claire's Knee. In another, David meets Skye's art-film friend who likens her work to Jonas Mekas and a less homoerotic Kenneth Anger. David's New York apartment in the third season features posters of Dr. Strangelove and Taxi Driver alongside Francois Truffaut's Day for Night and John Schlesinger's Sunday Bloody Sunday. His passion for film feels rooted in specificity for its own sake, not to flatter or impress its audience.
It Believed in the Power of First Steps
Red Oaks always contained an existential bent. Whether in lonely suburban streets or dark New York nights, its characters fight to break out of their ruts, overcome the personal and financial obstacles that stand in their way (Red Oaks is perhaps one of the best shows about class struggle to come out this decade), and most of all, not let opportunities pass them by. At the same time, they're desperately trying to hold onto the good times before they slip through their grasp, worrying that there aren't that many left.
But the series also understand how a small leap of faith can lead to new beginnings. By the end of the series, David accepts that his parents are different people with their own flourishing lives, and that the friends and former lovers who dominated his young life will eventually drift away. It ends on David's first major professional accomplishment: directing a dog food commercial, a major step up from his previous gigs. Hey, Francis Ford Coppola started out in soft-core, so maybe this is his break. Maybe it's just another sidestep. Either way, it's a step in the right direction, and Red Oaks never undersold its importance.