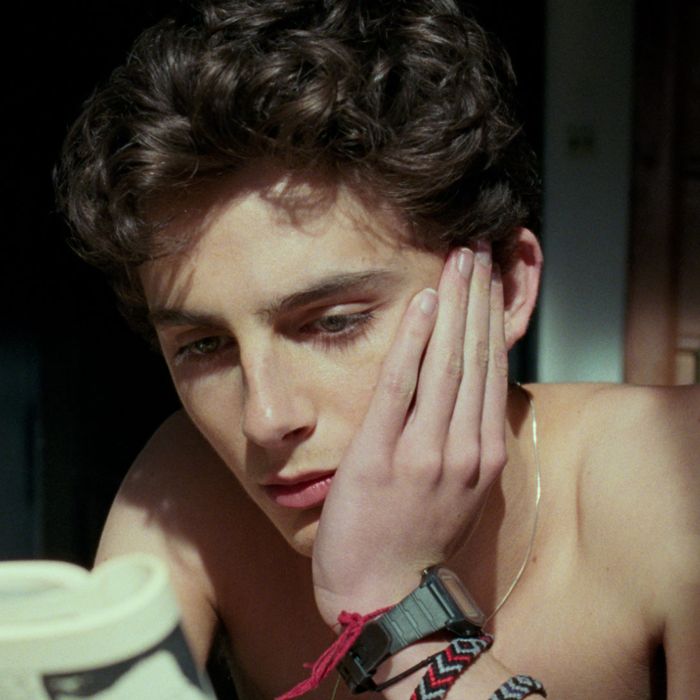 Photo: Sony Pictures Classics
In Call Me by Your Name, the gifted young American actor Timothée Chalamet plays Elio, a 17-year-old who spends summers with his academic parents in their airy, rustic villa in Crema in northern Italy. In early scenes, the skinny, long-waisted Elio seems vaguely uncomfortable in his body, as if uncertain what to do with it apart from the de rigueur canoodling with teenage girls who swim with him in nearby lakes and ponds. It's only when he stares from his bedroom window at the arrival of this year's summer guest — a young scholar who'll spend six weeks reading, writing, and working with the professor — that Elio seems to come out of his own head.
The 24-year-old visitor, Oliver (Armie Hammer), has an easy, almost arrogant physicality. He's broad-shouldered, slim-hipped, absurdly handsome. But he's hard to read. Oliver gives the shirtless Elio a quick shoulder massage and then heads off to play volleyball. Was it innocent or a come-on? Whichever, Oliver's touch lingers. Elio sneaks into Oliver's room and sticks his nose into a pair of discarded bathing trunks, inhaling sharply. He puts them on his head. He's in heaven.
Call Me by Your Name takes place in summer, 1983. It has the feel of something recollected in tranquility, but the eroticism is startlingly immediate. The faithful adaptation of André Aciman's novel is by James Ivory, but the movie has a different feel than Ivory's own formal, somewhat stiff work. The Italian director Luca Guadagnino creates a mood of free-floating sexual longing. Oliver never wears long pants, only short shorts or swim trunks, and young men are always doffing their shirts and jumping into sparkling water or riding on bicycles along dirt roads. The flesh tones stand out against the villa's pale whites and yellow walls — more tactile but on a continuum with the sculptures and oil paintings by men with similar longings centuries ago. Call Me by Your Name is hardly the first film set in Italy to juxtapose youth and beauty and fleeting seasons with ancient buildings and ruins. But I can't recall such a continuum between the ephemeral and the enduring.
I also can't remember a filmmaker who has captured the essence of midsummer this way, lazy but so vivid that every sound registers. Sound floats in through windows — of insects and birds but mostly wind. The presence of Nature can be felt in every one of cinematographer Sayombhu Mukdeeprom's frames. It's reflected in the bodies of the characters. Oliver is hard for Elio — and us — to read. Is he toying with the teenager? Or is something stirring in him, too? In this atmosphere, how can something not be stirring? There's friction in the uncertainty, heightened when Oliver dances provocatively with Elio's kinda-sorta girlfriend. The minutes go by and then we're into the film's second hour with everything maddeningly —but thrillingly — undefined.
The love scenes between Elio and Oliver aren't explicit — they only feel as if they are. The title is said in a moment of passion. It's Oliver's fervent desire to dissolve his self, to become one with Elio. I should point out that Armie Hammer doesn't look 24 — more like 29, which he was during filming, and that changes the dynamic. Make of that what you will (17 was above the age of legal consent in Italy), but it's Elio who finally pushes Oliver over the brink — who calls the question.
Michael Stuhlbarg plays Elio's father, an anthropology professor who gazes intently at his son, seems to know what's happening — and doesn't interfere. He and Elio have a revelatory conversation near the end, but it's the very last shot that stays in mind, all but dissolving the boundary between viewer and actor. Everything in Call Me by Your Name registers momentously, from the scene that definitively raises the question, "Do I dare to eat a peach?" to the '80s dance numbers to the yearning Sufjan Stevens song over the stunning credits. Chalamet gives the performance of the year. By any name, this is a masterpiece.