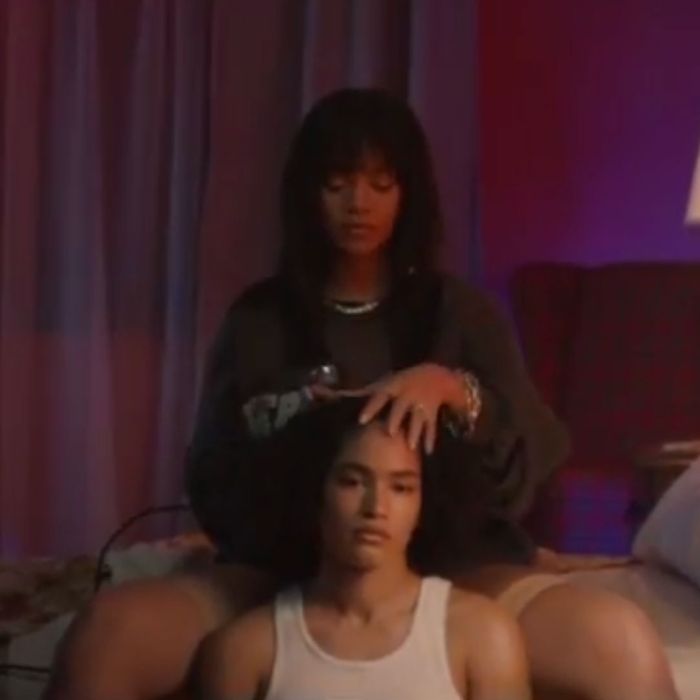 For better or worse, N.E.R.D. — the rock band led by Neptunes producer duo Pharrell Williams and Chad Hugo — has always been ahead of its time. Formed in 1999, the group released its first album in 2001. In Search Of… wasn't perfect, but it was certainly new: The strains of '70s and '80s funk the pair looked back to had been juiced, mashed, and strained by Space Age precision, and woven into raps and punkish guitar riffs to create a sound that seemed to operate according to its own peculiar laws of physics. Subsequent albums — the last of which, Nothing, was released in 2010 — reaffirmed N.E.R.D.'s commitment to innovation. The hits were few, the soundtrack licenses somewhat more plentiful, and the fan base dwindled over time, but no one could deny that the band had its own sound. Not everyone liked them, but the ones who did were very likely to be young, forward-thinking, and inclined to make music themselves. After Nothing, the group dissolved in search of … well, something else. After years honing their production work for other artists and trying out ideas with N.E.R.D., Pharrell steered himself into a lucrative solo career. Less interested in the limelight, Hugo dabbled in DJ and production work far from the earshot of any mainstream audience. A handful of new N.E.R.D. songs emerged in 2014 for a Spongebob movie soundtrack, but other than that it was radio silence.
The band's reputation grew over time, particularly once Tyler, The Creator emerged as a producer, rapper, musician, and all-around impresario. It soon became apparent that Tyler's unshakable faith in coming out of left field had been instilled in him by repeat listenings of N.E.R.D. albums. His ardent fandom more or less single-handedly pushed critics to reevaluate the merits of Williams and Hugo's eclecticism. A lot of what had been thought to be noodling around turned out to have hidden worth; on the other hand, a lot of it really was just noodling around. You can hear echoes of N.E.R.D. in Tyler's offbeat sonics, but they're there too in Toro Y Moi's remastered grooves and perhaps even in Travis Scott's aggressive deployment of electric guitars. The world was finally ready to meet N.E.R.D. halfway, but though its members were hardly reclusive, the band itself was nowhere to be found. Still, the band's acronym suggested some sort of revival: After all, one could hardly name a band No (one) Ever Really Dies without presaging an eventual return.
Now, in 2017, they're back with a new single, "Lemon," from an unnamed, forthcoming fifth album. Gone are the guitars: All elements of rock have atrophied like legs on dolphin ancestors, leaving a rock-hard beat with high-end bells and whistles of the sort the Neptunes crafted for Clipse over a decade ago. Sure enough, the song has a guest rapper to complement Pharrell's verses, but it's not Malice or Pusha T — it's Rihanna herself, pictured in the music video shaving the pate of a dancer whose motions soon after adorn her verse. Anyone who thought her flow on Kendrick Lamar's "Loyalty" earlier this year was a fluke thought wrong: "Lemon" shows off her spoken voice once more — firmly on beat, but now tight with pride instead of breezily exact.
It turns out that N.E.R.D. and Rihanna have more in common than just a song: There's an affinity in attitude in their urge to constantly reinvent themselves in new modes. If no one ever really dies, then life has to continue, and what's life if not a ceaseless evolution? It's no accident that Pharrell and Rihanna are two musicians (if not the two musicians) with the most refined sense of personal style, and no coincidence that their lyrics should mesh so naturally. If "Lemon" serves as any indication, it's clear that no matter what the future brings, they'll be even more advanced.