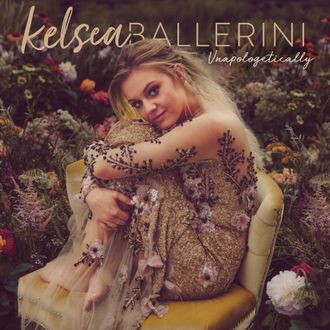 Kelsea Ballerini's debut album was the sort of collection whose success seems foreordained only in hindsight. Released by an unproven independent label into a country landscape dominated by majors, The First Time was the product of an artist with only the slightest résumé, and its lead single, the winsome "Love Me Like You Mean It," gained radio traction only slowly. It didn't help matters much that Ballerini was a woman in a genre which, though host to a pantheon of female stars, was nonetheless harder to break into for women than for men.
Though subject to its own evolutions, country was and is a genre where adherence to established song structures remains an article of faith. This wasn't necessarily a bad thing. What the genre lost in innovation and national resonance it gained in internal coherence. The relative rigidity of the form was a kind of standardized test. Whether old or new, it made talent easier to assess, and Ballerini's talent was undeniable. Like Taylor Swift before her, Ballerini makes country's constraints feel like a blessing. Since her respect for tradition was freely given, it doesn't hinder her motion in the least. Much has been made of the similarities between Swift and Ballerini, and for good reason: They're blonde prodigies with a knack for fusing old country habits with the (relatively) liberated tones of contemporary pop.
Still, the two are clearly different, and the difference between them lies in demeanor. Swift specialized in retribution, turning the tables in a romance after its end; Ballerini, fittingly enough on an album titled The First Time, zeroed in on love's commencement in infatuation. Swift's country albums had nothing if not presence — after all, payback makes it clear that you're there. Ballerini's debut wasn't playing a power game; it was simply playful. In song after song she displayed a charm that was more or less irresistible. One couldn't help but like the fact that she knew how to say, unabashedly, that she liked someone.
"Love Me Like You Mean It" took time to build momentum, but eventually topped the country charts; two post-release songs, "Dibs" and "Peter Pan," did the same, making Ballerini the first female artist since Wynonna Judd to score number-one hits with her first three singles.
Much as her near-exact contemporary Bryson Tiller was filling a niche in R&B (the unflashy but reliable lover) so obvious and universal that everyone had overlooked it, Ballerini had discovered that in country, puppy love was something that no one else was doing and everyone could relate to. And, like Tiller, after receiving a belated but sincere welcome from all the established figures in her field that had failed to anticipate her success, Ballerini is releasing a sophomore album in 2017 that adds new depth at the expense of natural ease and charm. Released today, Unapologetically is a 12-song triptych depicting, successively, the aftermath of a failed romance, the doldrums of uncertainty and indifference, and the discovery of a new love — the title track falls in this last category. But people who are truly unapologetic, whether in love or anything else, never have to announce it; the fact that Ballerini has to spell it out hints at the new tension and development in the collection relative to its actually unapologetic predecessor. "I hate love songs, I really do," Ballerini sings, then adds "but I love you"; the fact that she's comfortable hating anything shows how much she's changed in the wake of the failed first love affair.
She's smarter and harder, and it shows in both her lyrics and her arrangements, which gain in polish what they loses in sweetness. The final third's love songs can't match up to First Time classics like "Peter Pan" or "Looking at Stars," but the freshman album has nothing like the heartache of Unapologetically opener "Graveyard" or the narrative dexterity of centerpiece "High School," with its depiction of a washed-up football hero so trapped in past glories that he fails to mature. It's a fate that Ballerini is eager to avoid in her own career, and so far she's succeeding. It might be tempting to say that she's never as good as The First Time, and in all honesty it's hard to prefer the new album, which at times settles for a slickness typical of industry pop and country alike, to the more homespun, gentler textures of the old. Still, growing pains like these are necessary for an artist, whether it's to avoid becoming a one-trick pony or to merge into the lane of pop stardom (an ambition about which Ballerini is refreshingly honest in interviews). One exits Unapologetically more confident in her presence and artistry than ever before, but it's difficult to imagine her becoming a household name until she can fully reconcile the facts of cruel experience with the charm of innocence.