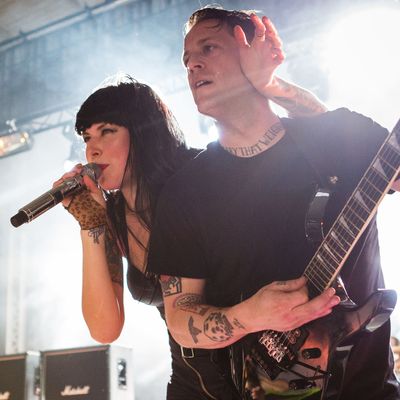 Photo: Josh Brasted/WireImage
Brevity has always been a priority for Sleigh Bells. The noise-pop duo of vocalist Alexis Krauss and Derek Miller debuted in 2010 with Treats, an album weighing in at 32 minutes; factor in subsequent albums Reign of Terror (2012), Bitter Rivals (2013), and last year's Jessica Rabbit, and you'll find that the average length of a Sleigh Bells album is only 35 minutes. Now comes Kid Kruschev, a collection which, with seven tracks amounting to no more than 22 minutes, would traditionally have been called an EP and which the band has dubbed a "mini-LP." Whether it was out of suspicion that EPs don't get reviewed or just a fit of sheer frivolous fancy — who knows. The key thing to take away is that they're not much interested in wasting your time.
They'd do their thing and go, for better or worse; but what they actually do has shifted over time. Treats had the feel and force of plate glass breaking. The lyrics that Krauss sings told no story; they were willfully and intentionally simple in the style of march slogans or cheerleader chants. But the contrasts between her high delivery and the varied loud textures of Miller's guitars and drum machines added up to something more substantial. Who needs a narrative when you have a sugar rush? Treats received stellar reviews and did brisk sales by indie standards; as the years passed, pop artists like Demi Lovato and Taylor Swift delivered the band a backhanded compliment by plundering Treats for their own songs.
As the sophomore album gave way to junior and senior, Krauss took the lead more and more. Her lines grew longer, attempted to convey more sense; Miller made room for the transition, smoothing out roughness and softening the crunch. Though there was the occasional relapse into riffage, it was clear that keyboards had become their primary instrument. The volume was still cranked up, but in the absence of tension, it tended toward monotony. Kid Kruschev continues this trend while registering a measure of dissent from it. Opener "Blue Trash Mattress Fire" boasts some of the heaviest guitar work from Miller in recent memory; successors "Favorite Transgressions" and "Rainmaker" maintain a similar, though fading, emphasis on electrically distorted fretwork that serves them well. The remaining four tracks are less remarkable: Permanently aloft in a limited range, Krauss's voice tends to dissipate the nuance and emotion she intends to transmit. In the absence of grittier, more solid sounds to anchor it, listeners end up stranded in the high white mists.
The "mini-LP" ends up serving as a microcosm of the band's career at large: a strong start dissolved into unfocused meditations. We never learn what the title, with its youthful communist pretension, really amounts to; though the lyrics are sharp on their own account, in a musical sense, their meanings are detached from their delivery. Sleigh Bells originally distinguished itself from the indie landscape by its commitment to the roughage made possible by the electric guitar, and it's not impossible to imagine a future for the band where the socialist politics (or whatever) are expressed through form instead of content. Sonic contrasts can suggest a dialectic; hard guitar chords can gesture toward materialism. Provided that the plate glass breaks ecstatically, listeners can figure out the rest for themselves.