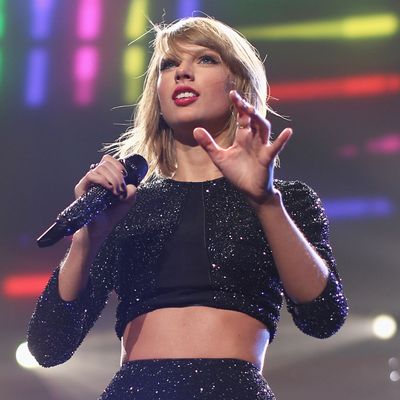 Photo: Christopher Polk/Getty Images for iHeartMedia
Released shortly after midnight, "Call It What You Want" is the fourth lead single for Taylor Swift's sixth album, Reputation, with a fifth single due next week, a day before the release date. As with everything else about the album, the song breaks new ground, but not necessarily for the better. One lead single used to be enough for an album, two at the very most; going for five implies a steely determination to dominate the charts and conversation at all costs. If she risks being overstretched or oversaturated, so be it; what's most important is that you know she's there.
To their credit, the Reputation singles we've heard so far have been different — not just from Swift's previous catalogue, but from one another. "Look What You Made Me Do" was dopey, floppy camp; "… Ready for It?" synthetic and aggressive; "Gorgeous" a dull stab at twee affection. "Call It What You Want" deals in gossamer and light; its spare, airy production evokes, or attempts to evoke, a sense of radiant, protective romance in the wake of a devastating social debacle; listeners ready to view that loss as the one she suffered last year at the hands of Kim Kardashian and Kanye West will meet no resistance. "My castle crumbled overnight," Swift opens, then adds, "I brought a knife to a gunfight," then continues, "They took my crown, but it's all right." She's reclusive and licking her wounds, but it's okay, since she's in love with a good-looking man ("fit like a daydream" and "fly like a jet stream") who cares for her, and you can call it what you want, with the strong implication being that she doesn't care what anyone else thinks.
The song is pleasant enough to listen to; you can sense the efforts of Max Martin and his team to coax you into feeling light-headed, but it's effective nonetheless in the same way that a dose of laughing gas takes effect regardless of how you feel about it (or soon won't feel, thanks to the gas). The price of vaporizing one's production is a loss of focus, something Swift remedies with slow, distinct line deliveries. But resolving the lack of cohesion at another level seems beyond her power. The lover has no character to speak of, no emotional texture; you could replace him with an android and no one would notice. And the gestures toward rising above the fray fail to convince. Even in the milk-toned reaches of the atmosphere, a curdled attitude persists. The euphoric sounds are belied by a tone that somehow manages to be smug and downtrodden at the same time. Finding private consolation after a public scandal is fine and good — where else could one find consolation, after all? But to make that private consolation part of a public statement of indifference to public opinion is a trickier matter. Taylor Swift cares what her audience thinks; she wouldn't have become the pop star she is if she didn't. Pretending that she doesn't care would be dishonest, but the brittle attitude and scattershot logic of the Reputation singles point to a different possibility: She no longer knows how.