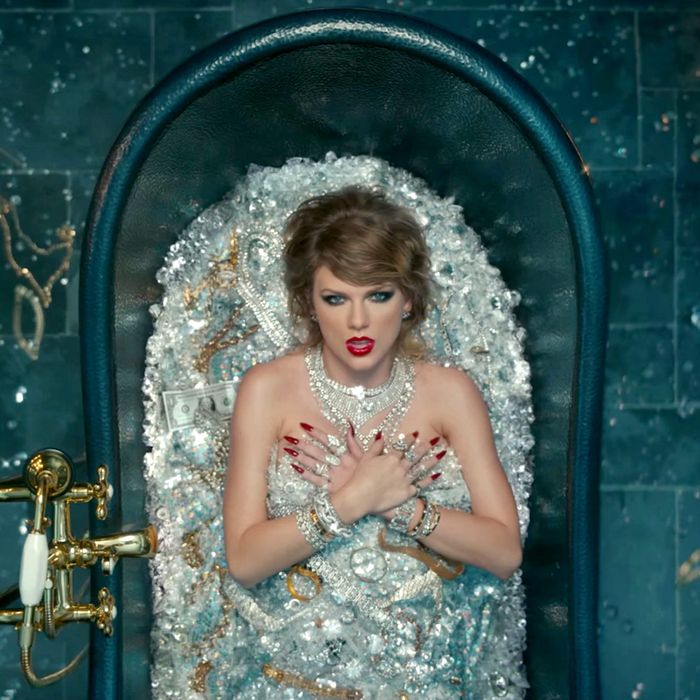 Fame is a shell game, a precarious balance between real grit and the performance of decency. Successful stars are affable in public but protective of their lives in private. Part of why the last year of news has felt so cataclysmic is the worrying sensation of all pretense of goodness slowly being cast aside (or else ripped away). Powerful, popular men are being revealed as monsters. Genteel grandmas and grandpas are letting their bigotry fly. Taylor Swift played the fame game harder than most. In public, she was America's sweetheart, but on record, she could be withering, and in business, she was an ironclad capitalist, the daughter of a Pennsylvania banker who proved every bit as calculated with money as the pedigree suggests.
Taylor's not a messy public figure like, say, Katy Perry, who built her entire Witness promotional campaign around the singular weirdness of being Katy Perry. She moves more like Beyoncé in that she stays rather quiet most of the time, making it hard to tell what she's thinking. She weaves a narrative through carefully curated Instagram photos, talented Ken-doll beaux, and conspicuous paparazzi shots in all the right places with all the right people. It's a to-do when she pops up places, because of the sense that she's communicating something about her brand with every move.
It's hard work being everything to everyone, though, as Swift learned in a devastating tiff with Kanye West and Kim Kardashian, where she banked on the loudest rapper alive and the most well-documented reality television star of our time not keeping a record of their private dealings. Taylor Swift played Kanye West harder than she needed to, pretending to be blindsided by his crude lyric about her in The Life of Pablo's "Famous" and using her Album of the Year acceptance speech at the 2016 Grammys to drop a roundabout accusation that he'd been using his power to tear her down. What to get for the woman who has everything? The dignity of her nemeses.
Kim Kardashian producing audio of Taylor hearing and approving the "Famous" lyric was the Black Mirror crack a lot of us had been waiting for. Swift has long seemed like a grade-A villain playing it cool until the right time came to twist the knife, like pop music's own Scar from The Lion King. Her crusade to get Apple Music to pay artists during the service's inaugural three-month trial period made her look like an industry hero (until some hammy cross-promotion drew suspicion that the back-and-forth was a keen publicity stunt). After months of rumored beef with Katy Perry, Taylor released 1989 to streaming services the same night as Witness, forcing her rival to play second fiddle in new-release sections on her own launch night. Villainy that pure is rare. It should be appreciated, not painstakingly kept from view.
Reputation is Taylor Swift's long-awaited heel turn, the Dark Phoenix transformation hinted at in "Blank Space," the conniving mirror image of "Mean." The supervillain vibes are thick. "I Did Something Bad" goes full "Maneater": "I never trust a narcissist, but they love me / So I play 'em like a violin and I make it look oh-so-easy." "Don't Blame Me" draws from the same well of delighted wickedness as Ariana Grande's "Dangerous Woman." The talk of the set will probably be "This Is Why We Can't Have Nice Things," where Taylor finally lets Kanye have it: "It was so nice being friends again / There I was giving you a second chance / But then you stabbed my back while shaking my hand / And therein lies the issue / Friends don't try to trick you / Get you on the phone and mind-twist you." The killer dig comes a second later: "I'm not the only friend you lost lately / If only you weren't so shady." She's still dead wrong for what she did at the Grammys, but she knows real beef is won on how bad you make the other person look, not how good you look.
The irony of Taylor Swift using Reputation to lash out at a rapper is that the album doubles as her long-overdue embrace of hip-hop cadences and production values. From her Nashville days through 1989's synth-pop reinvention, Swift's music has felt like an artifact from a different universe where rap barely exists. Outside of the "Bad Blood" remix with Kendrick Lamar and the Zayn collaboration "I Don't Wanna Live Forever," Swift's music lacked a certain swing. Her melodies are feats of genius precision; her producer pal Max Martin once told Lorde that "Royals" was mathematically "incorrect songwriting."
"Look What You Made Me Do" overbearingly signaled a hip-hop reinvention that, in its quest to let everyone know that Taylor Swift had #BARS, actually showcased a stiffness, backfiring as badly as the b-boy dance moves in the "Shake It Off" video. Throughout Reputation, Max Martin, Shellback, and Jack Antonoff help serve up trap-influenced drum production that pushes the singer toward brasher cadences. Taylor shows that she can nail the bars and blue notes that make great rap and R&B because she is a skilled professional, but her delivery can be a little bloodless. She has a habit of over-enunciating words into gnarly forms — listen to the way she says "crime," "lie," and "time" on "Look What You Made Me Do" — and a too-clean singing style that, when applied to rap, gives a jarring sense of hip-hop being removed from its cultural and regional underpinnings. Future appears between Swift and Ed Sheeran vocals on "End Game" with a verse so effortless he makes both stars sound like robots. The difference between "Don't Blame Me" and "Dangerous Woman" is that Ariana's song feels like reveling in bad deeds, while Taylor's largely feels like reading a suspenseful magazine article about them, until she unleashes a torrent of impassioned vocal runs near the end.
Although the album fixates on big enemies and bad reputations, the buried lede is a quiet romance budding in spite of them. Swift shines brightest on these songs, building and developing her story out of economic but evocative turns of phrase. "Delicate" walks on eggshells around a new romantic prospect after some bad press: "My reputation's never been worse, so you must like me for me." "So It Goes …" and "King of My Heart" weigh the freedom of being single against the irresistible magnetism of a growing attraction. "Dancing With Our Hands Tied" and "Call It What You Want" find healing solace in surrender. ("All the liars are calling me one / Nobody's heard from me for months / I'm doing better than I ever was.")
Reputation races with a quiet sensuality that bookends 1989's jilted moments, and as the new album drifts further away from tabloids and anger into something more like grace, it spruces up the previous one's retro-pop gambit, pairing loud, bright, synthetic hooks with trap and tropical house accents to match steps with what's on the radio while looking back to the past. The keyboard melody that surfaces before the chorus of "King of My Heart" sounds beamed in the Cure's "Just Like Heaven"; "Look What You Made Me Do" literally interpolates Right Said Fred over drums on loan from a Peaches song. Barring the exasperating lead single, the new sound is an improvement; like Taylor herself, 1989 always came off a little too clinical to be believed.
As tempting as it is to crow for more love songs and reject the tabloid raps, the juxtaposition of the two gives Swift a dynamic depth. She's fighting for respect while trying to let her guard down, learning to trust again while working through feelings of betrayal. It would be dishonest to perch this album on just one mood. A whole album of vindictive Taylor raps would be hell, but ignoring the bad press that drove her to go to deeply funny means to avoid eye contact with paparazzi cameras is crawling back into a shell of artifice that's cracked for good. Taylor Swift might've bungled the Reputation rollout by leading with the worst song on the album, but at the end of the day, Reputation strikes the exact mix of necessary roughness and personal reckoning needed to shake off a calendar year of mounting turmoil. If we could get her to use her platform to denounce the big bads running 2017 off the rails and not just the people keeping her name hot on TMZ, the campaign would be a public-relations victory. Until then, baby steps …