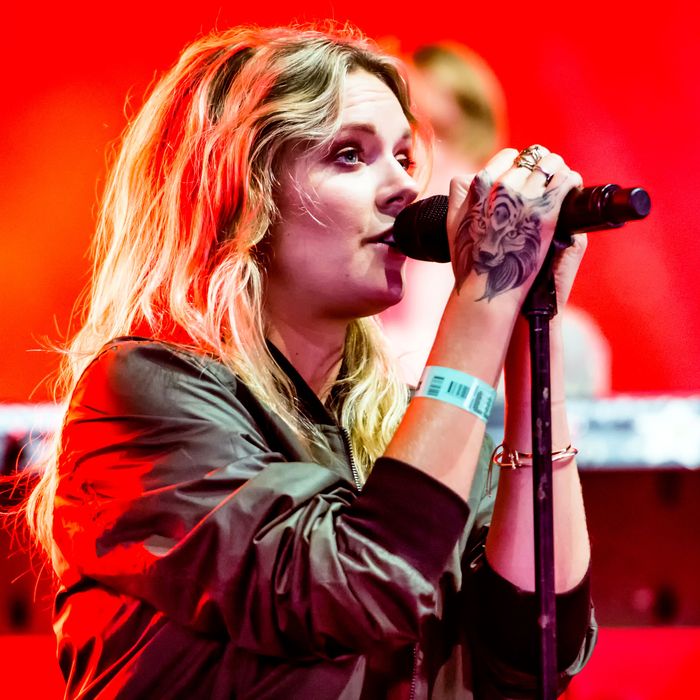 Photo: Dimitri Hakke/Redferns
Though Ebba Nilsson now lives in Brooklyn, her story could only have begun in Sweden. The daughter of a well-off family, the grunge-loving Nilsson attended Rytmus Musikergymnasiet, the prestigious Stockholm music magnet high school that counted Robyn among its students. Upon graduating, Nilsson joined a rock band that dissolved around the time her interests shifted into a different field of music. She didn't have much money, but the Swedish welfare state provided a margin of comfort and security while she delved further into pop songwriting and singing.
Naturally, she wasn't the only Swede with such interests. Since the late '90s the sound of American pop performed by women had been dominated by the presence of Max Martin, a Swedish perfectionist with an uncanny sense for discovering the melodies most likely to lodge in listeners' ears and a matchless dedication to teasing out the microscopic nuances that would amplify them most. Connected with Martin through Alexander Kronlund, a mutual acquaintance and fellow Swede, Nilsson moved to the United States, even bunking at Martin's California estate for a time before finding a place of her own.
Martin's mentorship wasn't crucial, but it was certainly helpful; he inducted her into Wolf Cousins, a songwriting collective he was assembling. All the while, "Habits," a spare, serpentine song Nilsson had written in New York in the wake of Hurricane Sandy to help cope with a breakup, was gaining attention. Independently released, the single won a large audience online; this led to Nilsson, who performs as Tove Lo, being signed to an artist deal with Island Records. Rereleased for radio, "Habits" crested at No. 3 on the Hot 100 and became the nucleus for an EP, Truth Serum, as well as a debut album, Queen of the Clouds. The album's sales were hardly on the scale of Martin's superstars, but between the chart success of "Habits" and "Talking Body" (another cut from the LP which topped out at No. 12), Nilsson had cemented her status as an artist worth investing attention and time in.
Since then, all the elements for Tove Lo have been in place. Her albums — the third of which, Blue Lips, comes out today — are organized conceptually and with symmetry. Just as Queen's 15 tracks were divided neatly into three five-track sections titled "The Sex," "The Love," and "The Pain," and as its 2016 successor Lady Wood was sectioned off into two six-track halves, "Fairy Dust" and "Fire Fade," Blue Lips' 14 tracks are evenly split between "Light Beams" and "Pitch Black." The overlap and dissonance between sex and love are her primary subjects, and she pursues them with uncommon directness and intelligence. For her, the brain feels and the body thinks; her songs are a process of baring where physical intimacy shades into emotional honesty.
Tove is brave enough to put herself forward completely and smart enough to know that she's going to get hurt. Her love doesn't have social overtones or religious implications; if she inhabits a myth, as on Lady Wood's chill single "Cool Girl," she does so with the intent to undermine it. Production-wise, her fellow Wolf Cousins are ready to supply her with the latest in Swedish song technology, precise confections of synths and programmed drums ready to be remixed by EDM DJs in a few months or diluted into songs sung by American pop superstars in a couple years. To hear her is to hear the future.
It's a package as compelling as it is seamless. Having proven, early on, her ability to write songs that chart high, Nilsson now seems content to turn out a few hits for other artists while maintaining a low profile: Despite being kind of perfect and very catchy, "Disco Tits," the lead single for Blue Lips, hasn't made a huge splash, but that's not the point. She's not interested in chasing trends or sales; what matters, for this self-possessed artist, is turning out a maximally cohesive collection, and it's thanks to this commitment to refining her craft that Blue Lips has a fair claim to be the best album of her career. Regardless of whether current taste catches up in time to make hits out of any of its songs, it's indisputable that the tracks on Blue Lips hit harder than their predecessors. While keeping faith with how she's already established herself, Lo's choosing new grooves and discovering new angles every bit as effective as those in her prior work. Her dark voice has always excelled at expressing feelings as well as her remove from them; "Shedontknowbutsheknows," with its third-person narration, turns out to fit her delivery perfectly. She's never done a straightforward ballad before; now she has. If she reinvented the "cool girl" before, now she's flipping the scripts on "Bitches." She's always been sex-positive; now she's speaks about receiving oral stimulation in a matter-of-fact tone.
Perhaps the best example of her growth comes in "Cycles," a song where her self-awareness of her tendency to repeat her mistakes itself becomes a new subject. "I'm in a cycle / I admit it / How can I change it when I don't know when I'm in it?" she asks. But her capacity for self-reflection allows her to progress while staying true to old patterns. Cycles are mandatory, but spiraling upward is her own achievement. If Taylor Swift's unwieldy Reputation suggests how the pure marquee pop heralded by Martin is going the way of rock, Blue Lips shows how the demise of the old dinosaurs opens up space for nimbler, more warm-blooded artists to grow.