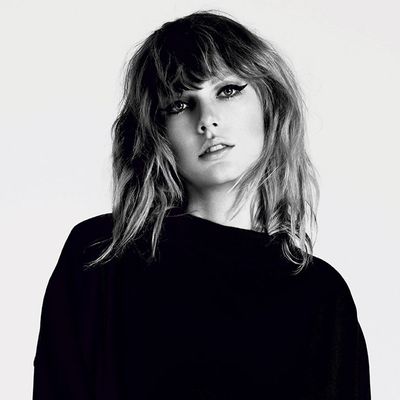 To be fair, it would have been hard for Taylor Swift to roll out any album in 2017. The artist has many gifts, but even her most ardent fans would have trouble believing that spontaneity is one of them. She thrives on program and discipline; in a year where politics and culture were defined by the shattering of established patterns, she was always going to come off as awkward. Conceived in 2016, Reputation operates as if set in an alternate universe, one where the absolute worst thing that can occur is Taylor Swift being outed as a liar. It was inevitable that her album — anyone's album — was going to be overshadowed by the explosive series of sexual-harassment and assault allegations leveled against men in power. If her release date wasn't overshadowed by the exposure of Roy Moore and Louis C.K. as serial sexual abusers, it would have been overshadowed by some other scandal.
When she finished her Reputation rollout by premiering a song last night halfway through ABC's Scandal, it was superficially pertinent but ultimately removed from the general fray. Recorded on Swift's oceanside estate in Rhode Island, her rendition of album closer "New Year's Day" took place with Swift in candlelight, seated on piano at the center of dozens of adoring loyalists. It's a moving performance by the artist's standards. For once, she's prioritizing emotional force over focus, and if the effect is somewhat disorienting and the total devotion on the faces of her chosen audience (and the audience's near-total whiteness) is unnerving, that doesn't keep the song from doing its job. Feelings were felt, some kind of romantic commitment was achieved. Then Scandal returned.
"New Year's Day" isn't the best song on Reputation, but it's one of the best, and like the rest of the good ones it excels because the petulant sense of betrayal that fuels the album elsewhere has receded. It turns out, that, once she puts herself in position to express emotions more common and profound than the sense of being an ultrafamous pop musician who got exposed by other ultrafamous celebrities as cold-blooded and duplicitous, that she's still an artistic force to be reckoned with. "End Game," featuring Future and Ed Sheeran, is a case in point. It leaves an impression of easy delight on a grand scale, an impression much enhanced by Max Martin and Shellback's loose, shimmering synths and subtly driving rhythm. Fresh off the revival of his R&B side on HNDRXX, Future sounds zestier than he has since, probably, Honest, his delivery smacks of satisfaction ("I got a bad boy persona, that's what they like") that's practically feline; in vintage Sheeran fashion, he sounds appalling at first but grows on you over time. Swift hops off the chorus onto a closing verse that shows her off at her most self-aware. "You've been calling my bluff on all my usual tricks," she sings, a clever line that applies to a new lover or to a general audience and critics who had her figured out. When she takes time out to address feuds, she does it succinctly and with wit: "I bury hatchets, but I keep maps of where I put them."
Though its launch process verged on disaster — three of the four lead singles were bad and none managed to stay high on the charts for long, assuming they even rose to begin with — Reputation still has bright prospects, both in terms of chart position and quality. With potential future singles like "End Game" and the amazing "Dancing With Our Hands Tied" on deck, Swift, inadvertently or not, seems to have saved the best for last. Haters, fans, and indifferent masses can rest assured: Taylor Swift is still too big to fail. She'll be okay; as far as the rest of the world goes … who knows?