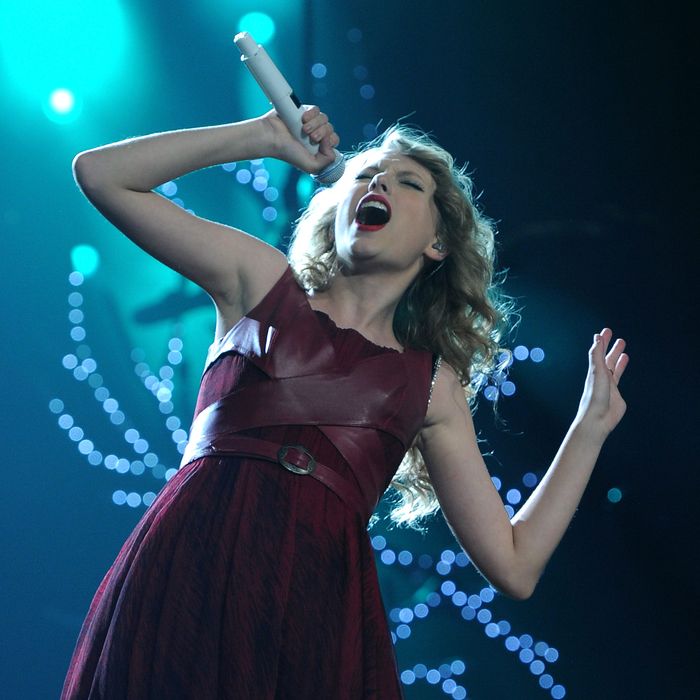 Photo: Larry Busacca/Getty Images
The year of our Lord 2010 was, in Taylor Swift's timeline, A.K. 1 — after Kanye, after the incident at the 2009 Video Music Awards. During Swift's acceptance of the night's Best Female Video award, Kanye West barreled onto the stage full of bluster about Beyoncé's black-and-white clip for "Single Ladies (Put a Ring on It)" being "one of the best videos of all time … one of the best videos of all time!" Swift recovered later in the show, of course — she and Beyoncé dressed in matching and resplendent red gowns and put on a united front. But the sting remained.
Reputation is either the culmination of the events that were set into motion that night at Radio City Music Hall or the latest flap of its affected butterfly's wings. But Speak Now, the first A.K. album of Swift's career, is certainly part of its narrative arc. Existing in the liminal space between pop-country and country-pop, Speak Now was, at the time, the first album to be touted as entirely Swift-penned. Her lyrics pair pointillistic details with away-message-ready sweeping statements; she leans into the winsome qualities of her voice, stretching out vowels so that they swoop along with her heart's beating.
As a 20-year-old woman living in 21st-century America, Swift's idea of romance on Speak Now is a bit twisted — think every rom-com that contorts itself in order to have a "happily ever after" ending — only with the neuroses of someone who's completely tuned into her feelings and skilled at dreaming up even happier endings can provide. "Mine" is a sweet song about a young romance that unlocks the chambers of Swift's heart, only the possessive nature of the candy-heart chorus reads as something a bit more sinister in the context of "Speak Now," a chunky rock-and-Nashville hybrid where Swift details her plans to spoil someone's wedding because the guy she wants is marrying "the wrong girl." (She has a "snotty family" and yells at her bridesmaids.)
Elsewhere, her lyrics lean even more into the blind-item guessing game that has increasingly dominated her album's campaigns. This is understandable in a way; if she's going to write about her life, the boldfaced names that pop up in her everyday existence are likely going to play into the narratives she's writing about. So there's "Dear John," the glum rainy-day stroll that was immediately pegged as being about the 13-years-Swift's-senior John Mayer (the guitar filigrees that curl around Swift's voice at times double as neon-bright arrows pointing toward this conclusion). And the spiky "Better Than Revenge," Swift's Xerox of Paramore's "Misery Business," which takes that song's snippiness about sexual experience a step further, with Swift playground-chanting the following vowel-heavy verse that was apparently directed at her ex Joe Jonas's new flame Camilla Belle: "She's not a saint / And she's not what you think / She's an actress, whoa / She's better known / For the things that she does / On the mattress, whoa." Yikes!
Speak Now also has "Mean," a singsongy rebuke to a bully with a chorus that any suburban misfit can relate to ("Sommmme-daaaay, IIIIII'll-be livin' in a big old city / And all you're ever gonna be is mean.") Its target, implied by Swift's particularly wounded aside about being told that she can't sing? Bob Lefsetz, the hoary self-appointed watchman of the music business, who called Swift's performance beside Stevie Nicks on Fleetwood Mac's "Rhiannon" at the 2010 Grammys "dreadful" and claiming that she "consigned herself to the dustbin of teen phenoms" with her weak vocals. Shunting him off to the dustbin of irrelevant mailing-list operators would have been more effective (and relatable to the non-Grammy invitees in the audience), but alas. Then there's "Innocent," the song about the Kanye West Incident, which Taylor premiered at the 2010 VMAs (synergy!). Dripping with studied sympathy and showing off the reedy high end of Swift's voice, it's a reach across the aisle to West that feels more like an attempt for Swift to look like the better person … even though public sympathy was largely on her side.
There is much to like about Speak Now, even with these unfortunate moments. "Back to December" is gently wistful, with textures that recall a chilly day when the sun goes down too soon and the mind can only turn to past regrets; Swift's lyrics slip between in-the-moment narration and getting lost in her head in an utterly relatable way. "Sparks Fly" sounds made either for or because of the climactic moment of a Nicholas Sparks adaptation, but Swift sells her gritty kiss-me-in-the-rain determination well. "The Story of Us" balances the tension between Swift's lyrics and its tightly wound country-pop beautifully, hinting at an inevitable blowup between the song's unable-to-communicate characters. (That's when it'll become a tragedy.)
Hailed at the time as a searing pop-country statement from a newly mature woman whose regular(ish)-girl persona contrasted with electro-glitter figures like Katy Perry and Kesha, it's now apparent that Speak Now represents that transitional moment where Taylor Swift, the wide-eyed, perpetually surprised romantic had its first internal dustup with Taylor Swift, the vengeful mogul-on-the-verge. (The title of "Better Than Revenge" comes from this line: "There is nothing I do better than revenge." Double yikes!) Amid the chiming melodies and Swift's sugar-spun vocals are hints of what would happen seven years later — only instead of being left deliberately by Swift, they're inadvertent clues that point toward her eventual lashing out at those who denied her the peace that she felt was rightfully hers.