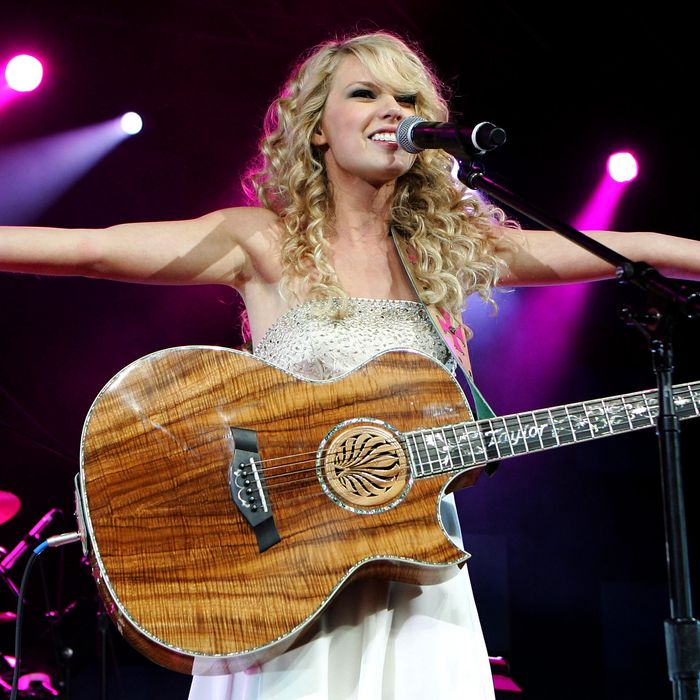 Photo: than Miller/ACMA/Getty Images
When was the last time you really bought into the idea that Taylor Swift was an underdog? She's been such a dominant pop force for years that it's easy to forget she started out as an unlikely country contender, defying industry wisdom about what would sell. By the time she arrived on the scene in the mid-'00s, the pop-country divas who'd been so dominant throughout the '90s had largely receded from view, and those programming the radio format had it in their heads that their core demographic of grown women preferred to hear grown male singers. The country-music business didn't yet see the point in courting younger listeners, major labels had a lock on radio airplay, and Nashville's old-school division of creative labor, which defined "singer" and "songwriter" as two separate jobs, was still the rule.
On paper, Swift seemed poorly positioned to carve out a place for herself in this thoroughly adult world, a teenage girl who'd signed to an indie upstart after daring to walk away from a development deal with RCA because the major label wanted her to record other people's songs. Had she acquiesced, she might've found herself pressed into the LeAnn Rimes and Tanya Tucker template for teen country stardom. With that model, how un-kid-like a kid singer sounds is the selling point. Swift, though, insisted on writing and delivering her own imaginings in a voice that sounded her age, and proved that a young, female perspective could carry emotional weight in country music. She showed up to co-writing appointments with seasoned Music Row pros expecting to be underestimated, then persuaded them of her seriousness by presenting a dozen song ideas prepared in advance. Once she had her debut collection of 11 songs to discuss, she was fond of pointing out that she'd dreamed one up in math class and written another for a school talent show.
Even now that Swift's entire catalogue is finally available on Spotify and everywhere else, her self-titled 2006 album is best listened to on CD, because you'll want to be able to flip through its scrapbook-style booklet. The printed lyrics contained easy-to-crack codes (strategically capitalized letters that spelled out the names of song subjects), and the acknowledgements ended with a postscript that captured the cheeky specificity of the autobiographical authority she claimed: "To all the boys who thought they would be cool and break my heart, guess what? Here are 14 songs written about you. HA."
Already Swift had found her artistic identity balancing diaristic purging with savvy pop craft, chaste romanticism with scolding wit, and amplifying small slights into high drama. She'd have many occasions to gently correct interviewers who tried to peg her narration as literal reportage. When pressed about the scenario that inspired her first single, "Tim McGraw," she redirected: "The song is not about a huge, intense relationship. It's about an innocent one." (Invoking McGraw as the singer of a song that conjured nostalgia was also a very smart use of the contemporary country practice of referencing performers of earlier generations as a way of claiming connection to the genre's lineage.) She considered it a sign of skilled storytelling to be able to "take a dirty look somebody gives you" or a situation where "somebody you're casually talking to says something that makes you sooooo mad" and craft a song that makes the complaints feel far more urgent and the wounds more real. Her skill in that area was impressive and endearing; it only began to grow wearisome as she continued relying on it years later.
For tween and teen girls, Swift was a defender of feeling deeply and unapologetically. One of the album's sharpest lines was from "Cold As You," a parting shot at a callous former love interest: "You come away with a great little story / of a mess of a dreamer with the nerve to adore you." Pining was the theme of her massively successful second single "Teardrops on My Guitar," a ballad whose protagonist, suffering in the friend zone while the object of her affection pursued someone else, easily inspired empathy.
Swift delivered the verses in breathy, brooding fashion, then belted out the chorus, a vocal attack that accentuated the thinness of her instrument. But in "Picture to Burn," a hooky single with Dixie Chicks–like attitude, she could be heard toying with sung-spoken vocal approaches and modifying her inflections and phrasing, techniques that she would increasingly come to value. "I hate that stupid old pickup truck you never let me drive," she sang, spitting the lyrics with gleeful, staccato bite. "You're a redneck heartbreak who's really bad at lying." In "Should've Said No," she needled a guy who'd ruined a good thing by cheating: "Before you go, tell me this: Was it worth it? Was she worth this?" Swift answered her own question with four bars' worth of taunting "no's." And in "Our Song," she animated her storytelling with frisky conversational phrasing.
That was among the album's sunniest tracks. Beneath her singing, the bright acoustic picking and strumming was goosed by a lightweight, programmed loop, a prescient pop-country update that she achieved with her then-producer Nathan Chapman. (Having primarily worked on demo recordings in the past, he too was new to the game.) The sound foreshadowed the day when she would summon singer-songwriter intimacy before rapt arena crowds. But there was even stronger evidence that such a scene was possible: Her interactions with fans on MySpace, where she famously did her own posting and personally answered messages. Country artists had long been known for their accessibility, but she took the impulse further, projecting something more like chummy, confiding friendship. The fact that she'd amassed so many online followers helped persuade country-radio programmers to play her songs; not only did she pledge fealty to the format, she was on to something way too big and important for them to ignore.