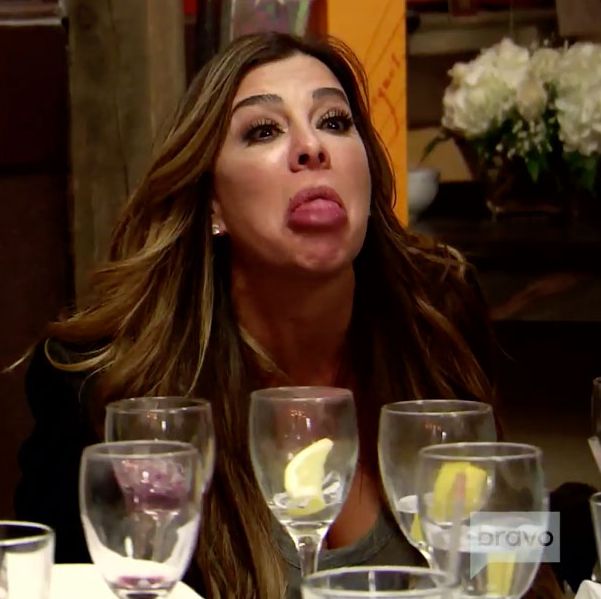 I spend a lot of my time reflecting, in silence, on The Real Housewives of New Jersey, as we all do. Dolores is my favorite person currently on this show, but the more I think about it, the more I suspect she did say something disparaging about Teresa to Danielle. If she hadn't, her reaction to Danielle's accusation would have been one of disbelief and confusion (more of a "… what?"), not anger ("You motherfucking liar"). Nevertheless, Dolores is upset that Teresa trusts her frenemy Danielle more than their decades-long friendship, as she tells Frank and Frankie, who are supposedly fixing a chair. I am not a carpentry expert, but it looks to me more like they're randomly poking at it with a screwdriver as a transparent excuse to show off their father-son matching quartet of swole arms on camera. I'll allow it.
Teresa, Joe, and Melissa have Gorga's Homemade Pasta & Pizza all ready for a friends-and-family tasting event. Well, almost ready. Teresa takes issue with one of the family photos lining the walls, a shot of Joe and Melissa, on the grounds that her brother is covering his face and therefore it is too much a photo of her sister-in-law, her nemesis ever since she dared offer unsolicited parenting advice. "She's only Gorga by fucking injection," says Teresa "You Would Think She Would Be Nice — Like, She's an Immigrant" Giudice.
On her way out the door in a huff, Melissa intentionally knocks over a glass, but it fails to a shatter. Nor does it spill, because it was empty. Three out of ten, better luck next time. I have a soft spot for Melissa, not because but rather in spite of the fact that "On Display" gets stuck in my head about once every three months. Melissa's comment about Teresa's pushover tendencies is hardly a relationship-ender, and soon enough, Teresa apologizes. Even Gia, whose emotional age is somehow 20 years older than anyone else on this television program, tells her mother that her siblings need more discipline, especially Milania, a budding tyrant.
Meanwhile, Siggy and Michael celebrate their anniversary with dinner at Il Mulino, like this is RHONY or something. Upset over her beloved Joshua's imminent departure for college, she tells Michael she wants to work harder, not cut back as he'd requested. Her plan: She wants to host overnight retreats with her friend Vikki [sic], a divorce attorney, once or twice a month. Michael is dismayed by the very idea of his wife spending that much time away from home, although, really, it's not that much time away from home. Michael: You seem nice, and I will keep my promise to Siggy that your Bayside, Queens, dealership will be my first stop should I have any Jeep-related needs, but you should probably get a hobby.
Margaret is also making career moves, plotting a business trip to Milan to check in on the production of her shoe line. Yeah, yeah, yeah. I see where this is going. It's not that I'm not looking forward to that adventure, it's just that — after Vicki's lifetime-achievement fake heart attack in Iceland — it feels like all Real Housewives trips through the end of the year should be cancelled, out of respect.
The rest of the episode unfolds as a low-budget horror remake of Big Night, with the entire group descending on the Gorgas' new restaurant. Live-in ex-husband Frank is Dolores's date, not her increasingly serious boyfriend David, a subject of much gossip by Teresa and Danielle in the, like, 90 seconds before the Catanias arrive. One moment, Siggy is pro-Margaret, pleased to hear her defend Dolores. The next moment, she is shouting at Margaret for not adequately defending Dolores. Suddenly, Siggy is not ready to forgive her. Girl, what? Your beef with Margaret has been legally, incontrovertibly squashed, per the articles of the Great Diner Summit of 2017. You can't unsquash a beef. Once squashed, it is no longer structurally viable.
When she does arrive, Dolores doesn't acknowledge Danielle and barely acknowledges Margaret. The men wisely hide in the kitchen, where Papa Gorga has been put to work. That even includes Margaret's husband, Joe Omega — Joe Gorga is Joe Alpha, obviously, and Joe Giudice is Joe Beta in absentia — whom she characterizes as a "stage-five clinger." (Discussion question for the class: Is Margaret the DJ Pauly D of RHONJ?) After a montage of people tasting different types of pastas, accompanied by chyrons naming them like they're minor characters on the show, Dolores and Siggy sit together and loudly complain about Margaret, even after she walks right up to them. "You're one of the ugliest human beings in the world for making fun of me," Siggy screams at Margaret, just as she has been screaming in season-eight teasers and promos now for what feels like three full years of my life.
Siggy is her own worst enemy this season. I'm sympathetic because she's said that all of these mood swings are the result of a hormone imbalance following her hysterectomy, for which she's sought hormone-replacement therapy. But this is some truly erratic behavior — like, get-you-kicked-off-an-airplane erratic behavior. Before she and Michael leave, Siggy smacks her hand in the air in Margaret's general direction and aggressively shimmies towards her. As Dolores and Frank head out, Danielle initiates some last-minute shit-talking. "Your ex-husband and your boyfriend all live in the same house together, too?" she asks, which doesn't really strike me as that inflammatory, in part because it is not strictly true, but Danielle apparently knows her audience. "That's none of your fucking business," Dolores growls, a nerve struck, before Teresa hustles her outside.
Excuse me, but is no one going to tell us how the tagliatelle was?