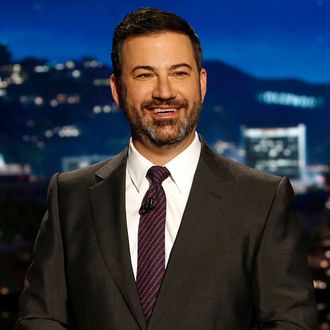 Jimmy Kimmel.
Photo: Randy Holmes/ABC via Getty Images
Jimmy Kimmel has gone in on Roy Moore before. Two weeks ago he devoted a segment to the Alabama politician's alleged harassment of teen girls when he was in his 30s, but it was a more recent bit that got Moore's hackles up. Comedian Rich Barbieri, under his rabble-rousing ego Jake Byrd, showed up at the Magnolia Springs Baptist Church in Alabama with a Jimmy Kimmel Live camera crew and started heckling Moore as he tried to maneuver his way around denying the molestation allegations made against him. This lead to the Senate hopeful going after Kimmel on Twitter today, daring him to travel south and make jokes "man to man."
Kimmel responded, and because this is 2017 and all models of decency are decaying, a major-party candidate for the U.S. Senate who is also an accused child molester is now in a Twitter fight with a late night talk show host who has become a voice for the conscience of America.