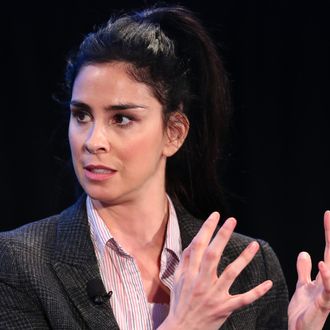 Photo: Joe Scarnici/Getty Images for Vulture Festival
When Frank Rich sat down to chat with Sarah Silverman at Vulture Festival L.A., he used clips from her new Hulu show I Love You America as the jumping-off points for conversation. Rich hit on current hot topics such as the wave of sexual harassers being exposed, how we can fight division in America with empathy, and of course, Trump and his constant stream of toxicity.
After discussing the public's inability to turn away from Trump's antics "because it's like a constant car wreck," Rich asked Silverman if she has a fantasy of how Trump would leave office. She had a ready response, "I'd love it if it was with no hair and makeup." Rich confessed he has his own version, and it was a little more cinematic in its scope, "It would be a more Nixonian end where the Feds close in on Don Jr. and Jared, and Trump has to make some kind of deal and get out. Or it'll happen after midterms when he has to face one or both Democratic chambers of Congress." Silverman refused to make predictions but said, "I don't think he'll be reelected" with Rich countering, "I wonder if he's going to want to be reelected." After that sank in for a moment, Silverman observed, "He doesn't understand what happiness is. If he wasn't ruining people's lives and destroying the planet, my heart would break for him. He's a damaged, damaged person."
Silverman showed her trademark empathy — something she endeavors to do and encourages everyone to try — even when it comes to Trump. She shrewdly observed the line that can be drawn from the current wave of sexual harassers being outed to the pathology of the American president, "We're going through a moment in time that's vital and there will be detritus. It's putting a healthy fear in men. #MeToo was a great campaign. There's not a woman who doesn't have a #MeToo story and that's the culture we live in and that has to change. That's why things have to be hard right now. People have to think before they act. Women protect men's feelings. They don't want them to feel embarrassed. That's been ingrained in us."
Elaborating on what we need to focus on moving forward, Silverman said, "We have to see it not just as, 'That guy did something wrong.' What this teaches us is we need to raise our daughters and sons to know what is acceptable behavior. We spent 70 years trying to figure out Hitler's pathology. That's why we look at Trump's pathology. It's okay to have some empathy or compassion about it, to try to understand what's behind bad deeds. It's nuanced and worth understanding."
Correction: An earlier version of this story erroneously said Frank Rich produces Sarah Silverman's Hulu show I Love You, America with Adam McKay. Rich and McKay are producers on HBO's upcoming drama Succession.