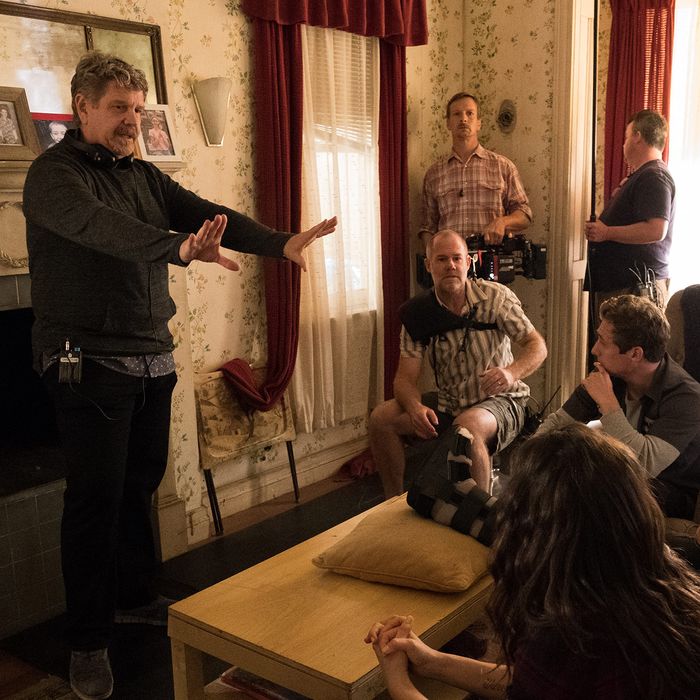 John Wells directs the cast of
Shameless
on set of the season-eight finale.
Photo: Eddy Chen/Vulture
"Come on guys, gimme a hug!"
It's 10:30 a.m. on the Warner Bros. lot in Burbank, California, and William H. Macy is covered head to toe in Smurf-blue paint and offering hugs to fellow crew members. The absurdity of the scene offers up some needed levity on set: During filming of Shameless's first post-Trump season, the ugliness of U.S. politics has inevitably creeped into every conversation. This morning, Shameless's executive producer John Wells and star Emmy Rossum are bemoaning recent headlines, namely Senator Bob Corker's tweet that the White House has become "an adult day-care center." Wells sighs heavily. "I went to an Adam Schiff fundraiser a few days ago, which made me feel better because he's actually a grown-up," he says of the Democratic California congressman, whom many see as one of the struggling party's rising stars.
Wells says he hopes the chaos enveloping the government, on both sides of the aisle, proves a positive bloodletting. "If there's one good thing to come from the Trump era, it's increased awareness of how completely blind and clueless the ruling elite of our government has been about poverty," says Wells. "The belief that we have a meritocracy in America — that if people pull themselves up by their bootstraps they can climb the ladder — is a lie. Like so many Americans, the Gallaghers were born into poverty. It's not their fault."
Since its 2011 debut on Showtime, Wells's faithful adaptation of Paul Abbott's U.K. series about Manchester drunk-deadbeat Frank Gallagher and his six kids has never explicitly been about politics. Or maybe it has: Shameless is unique in the TV landscape as the only series centered wholly on a family living in poverty, specifically a white family, in a world where scores of poor, disenfranchised Americans elected a garishly rich reality-TV star as their president.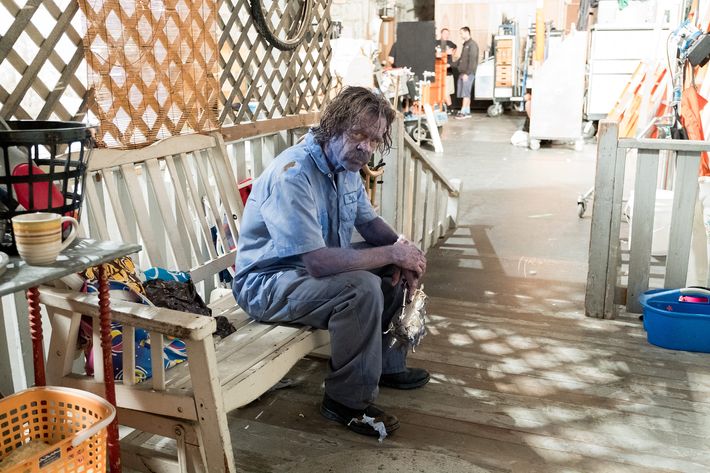 One might assume that a Hollywood veteran like Wells, who ran NBC's lefty-leaning The West Wing from 1999 to 2006, would see his series about sticking-it-to-the-man as a poignant middle finger to the divisive current administration. Not so, he says. "Yes, I have very liberal tendencies," says Wells. "But now more than ever, we are trying to skewer everything, whether that's political correctness on the left or extreme conservative orthodoxy on the right." Wells adds that forthcoming episodes of the eighth season, premiering Sunday night, absolutely were affected by current events. Among the hot-button issues explored early in the season are illegal immigration, the race and class divide in education, health-care costs, and one character's foray into jingoisms like "America First, motherfucker."
The show, he clarifies, will still be what it's always been. "Our mission with Shameless has always been to explore class in America," Wells continues. "What happens when the system knocks you down? Who do we empathize with? Who do we ultimately want to be? They're questions the country is wrestling with in a very big way right now."
Hollywood is struggling to reconcile them, too. How can development executives who live in tony communities like Brentwood and Bel Air — enclaves that are arguably out of touch with the lives of "real Americans" —be qualified to green-light and curate stories about the poor and working class? "One is hard-pressed to cite another series besides Shameless about a family living in dire poverty," says Reece Peck, a media culture professor at the City University of New York (CUNY) Staten Island. "Good Times, the 1970s sitcom about a black family living in a Chicago housing project, is the closest precedent. Then Fox's South Central and The PJs, but they were abruptly canceled. All of these, however, featured nonwhite families, conforming to the racialized, stereotypical image of the American poor. For this reason, Shameless breaks new ground."
The lower-middle class, Peck says, has been the "lowest rung on the socioeconomic ladder" that TV has generally been willing to explore in depicting white characters, as seen in such shows as ABC's long-running family sitcom The Middle and CBS's erstwhile Melissa McCarthy comedy Mike & Molly. Despite these, and a hearty glut of down-home reality programming that's unabashedly targeted rural and working-class white audiences over the last decade (see: A&E's Duck Dynasty and TLC's Here Comes Honey Boo Boo), Hollywood has failed in delivering compelling, empathetic narratives about outlying Americans, and series featuring caricatures of white hillbilly-villains like those in Netflix's Ozark, FX's Justified, and WGN's Outsiders haven't helped.
"In the way cities have been designed to keep the poor and the homeless out of sight, these same groups have been mostly invisible in the terrain of American TV," says Peck. "Shameless represents how poor communities carry resentment towards various upwardly-mobile class groups. It's this plurality of class antagonism that allows both conservative and liberal viewers to see their own political identities reflected and affirmed by the show."
Recent seasons have explored bipartisan cultural issues like gentrification: In one episode, Frank compares the influx of hipsters in his neighborhood to the imperial conquest of Europeans over Native Americans. "Frank's resistance to these attempts to 'reform' the dysfunctional aspects of his family creates good comedy, but also critiques the aspirational values of the professional middle class and their assumption that the culture of working-class people needs fixing," says Peck. "From this, conservative viewers could see the Gallaghers as sharing their antipathy for educated elites and as being simpatico with their anti-government ideology."
It's yet unclear how deeply Hollywood is looking to appeal to a wider swath of political and socioeconomic demos post-Trump. At least one network, ABC, announced after the 2016 election that it aims to find shows that appeal to the working class; it's currently rebooting its 1980's Midwest-set sitcom Roseanne, with Shameless's Emma Kenney ("Debbie Gallagher") playing the daughter of Sara Gilbert's character, Darlene. Meanwhile, Shameless has become a compelling case study. It's now Showtime's youngest-skewing series, has the network's largest social-media presence, and has grown consistently: season seven was its biggest yet with 6.5 million weekly viewers, a surge likely helped by the series' debut on Netflix in 2016.
It wasn't an easy sell, though. When Wells initially shopped the series to a handful of networks, including HBO and NBC, a common refrain emerged from the meetings. "They said, 'We don't think this world really exists in the United States,'" says Wells. "And I'd say, 'Well I can tell you that it does exist because I grew up in and around it.'" Also on Wells's pitch tour was Showtime, whose edgy lineup at the time included series like Dexter and Nurse Jackie; shows that programming president Gary Levine says didn't easily mesh with an ensemble-family conceit like Shameless, so the network initially passed. But in October 2009, they reconsidered.
"There are definitely myopic executives in Hollywood," says Levine. "I've been in rooms where someone will say, 'That character is such a loser.' I'm like, 'Loser? He's one of the richest characters!' I continued to love the Shameless script and these characters. It took a beat or two, but it was ultimately a happy ending."
After a brisk assembling of the cast, a roster top-lined by Wells's friend Macy from their ER days and filled out by eleventh-hour hire Rossum, Shameless premiered in January 2011 to decent ratings and mixed-to-positive reviews. "[It's a show] I didn't think I'd be all that interested in, but quickly became one of the best things I've watched on TV," wrote a reviewer in the Washington Post. The AV Club said, "I'm not entirely sure what the show is supposed to be about," and TV Guide wrote: "Shameless is what you might expect of a no-holds-barred family drama on pay cable: reckless, raw and always a bit much."
Executive producer Nancy Pimental, a veteran of Comedy Central's South Park, says Shameless' blending of comedy, drama, and WTF moments (a typical challenge on the show is how to best intercut a scene where a character is dying with, say, another depicting a threesome) may have made it a difficult sell at first. "I don't think Hollywood thought audiences could handle such a flexible tone in their television," says Pimental, citing that Shameless was among the first wave of recent high-concept series — before Amazon's Transparent and the CW's Crazy Ex-Girlfriend — to showcase such a raw, effective blending of genres. Peter Roth, president and chief content officer of Warner Bros. Television Group, the studio that makes Shameless, says it's the show's ability to depict painfully real themes through a comedic lens that makes it such a unique entity in the TV landscape. "I've called John [Wells] many times and said, 'Okay, you've reached a new level of depravity this season,'" says Roth. "Yet, I think the audience understands why Shameless is so special; that as dysfunctional as this family is, they love each other."
Also distinct are Shameless's rarely-seen depictions of poverty: The Gallaghers are shown exercising, going to college (or at least trying), embracing homosexuality, being entrepreneurial, using smartphones, and pontificating about politics, often via Frank Gallagher's drunken rants about an America that's now divided into "the rich and the fucked." Wells says all of this thematic realism is meaningless if the series doesn't look and feel believable. So Shameless spends four weeks per season shooting on location in poor neighborhoods in and around Chicago (unlike "working-class" series like All in the Family and Married With Children, which were filmed on Hollywood sets). "It's important for the actors to be in Chicago because it feels and smells different than L.A," Wells says.
It also adds a healthy dose of Gallagher-ian chaos to their process. Rossum reports there are many moments of "changing in church basements" and "trying not to pee on the 'L' train," while Macy calls being on-location a continuity nightmare. "You'll be on set in Los Angeles and have a big scene with someone where you walk out the door of the Gallagher house in a huff," he says. "Then a month and a half later, we'll pick up the same scene in Chicago. It's insane."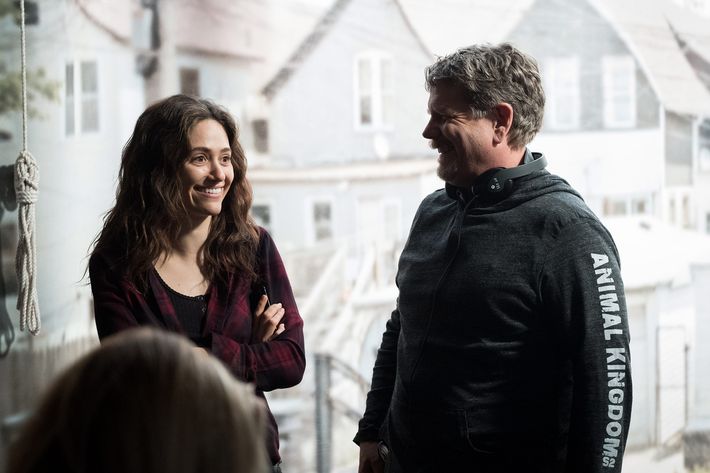 While the series has gained a devoted fan base, Hollywood's lauding of Shameless has proven more elusive. Wells was so frustrated that his writers and actors weren't being recognized, he lobbied the Television Academy successfully in 2014 to move the series from the drama to comedy category in hopes that voters would connect better with the series' outlandish, funny moments. Beyond netting Macy four nominations for best lead actor* in a comedy, the shift hasn't proven fruitful. "Emmy Rossum is so brilliant and fearless, it galls me that we can't get her nominated," admits Levine.
For Wells, the most meaningful metric of success comes from those who actually live the series' gritty reality. He says he loves when South Side locals tell him that Shameless accurately and respectfully captures their world, and the cast and crew have grown close to the real-life family who live inside the Gallagher home. "In fact, they've used the money they've earned to fix up their house, so our scenic team has had to work magic to make sure it still looks convincingly crappy for us to shoot," he laughs. "This makes me very happy."
*A previous version of this story stated that Macy was nominated for best supporting actor at the Emmys. He has in fact been nominated in the lead actor category.