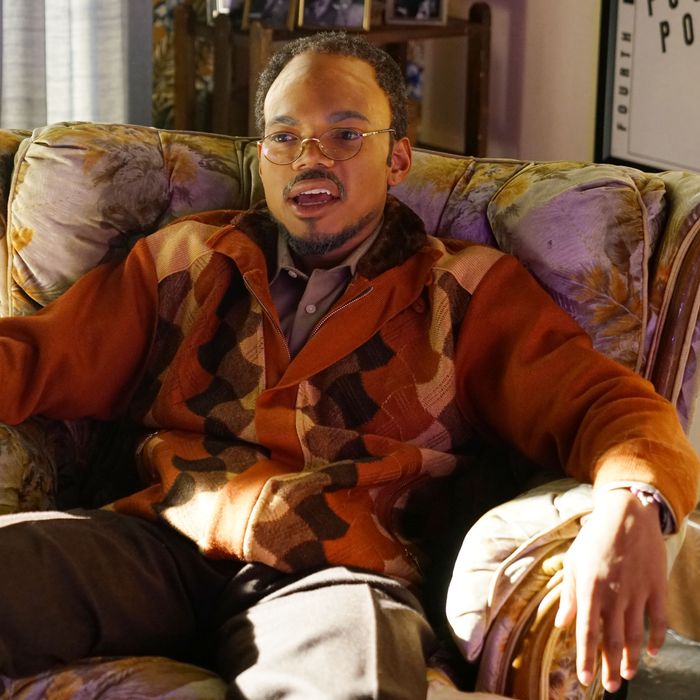 Photo: NBC/Samantha Lichtenstein/NBC
Chance the Rapper's SNL episode could never have happened without the show's recent, much needed diversity push. Chance could have hosted before, but he wouldn't have starred in four sketches where the majority of players were black. These sketches varied greatly in style and content and wigs: there was a straight sketch, a mockumentary, a music video parody, and a recurring game show sketch. Without writers and performers of color, we are left with Nat X and Charles Barkley dunking on Barney. Classic sketches, no doubt, but they hinge on the assumption that black men are strong and scary. The first post-monologue sketch of this episode of SNL was essentially a cross-examination of that stereotype. Diverse writers' rooms = better shows.
Cold Open
Oh to see the world through Eric Trump's eyes, and be full of wonder at all the things that light up! My only problem with this recurring duo is that it makes Trump Jr. look competent in comparison. And Mikey Day isn't sufficiently puffy of face. Both Trump brothers are bloated failures, but I can see how that's a less exciting comedic premise. OK, I have one other problem: the camera shot chosen for most of this All the President's Men riff cut off Alex Moffat's hands. If we can't see Eric's poor imitation of his brother's hand gestures, half the bit is lost.
Monologue
This is the first song monologue (from now on referred to as a songologue) of season 43, and it was a good one. Chance crooned a tune about all the nightmare relatives we're all about to encounter on Thursday: "They're your cousin-in-laws, whatever that means!" I'm particularly dreading my one in-law that always touches the back of my neck when we hug. Leslie Jones plays The Aunt Who Shows You Her Gun with great aplomb.
Wayne Manor Food Drive
It makes sense that Batman isn't super-beloved in overpatroled neighborhoods. Nor is it particularly surprising that a rich dick with his own cave does a fair amount of racial profiling. It's great when a good piece of satire can bring something that in hindsight seems 100% obvious to your attention. This was the first of many scene-stealing turns of the night for Chris Redd. I could listen to him talk about how Batman broke his jaw all day.
Come Back, Barack
A spiritual successor to Emmy-nominated "Jingle Barack," Chance, Kenan, and Chris Redd play '90s R&B trio De-Von-Tre, lamenting the loss of our last real president. "Maybe Michelle could run," they sing in the mournful rain. This video is elevated by the attention to detail. The wall in front of which De-Von-Tre sings "I'm sweating through my damn scarf" is probably some conference room in 30 Rock, but it's a perfect '90s afrofuturist landscape ala "What's It Gonna Be" by Busta Rhymes and Janet Jackson.
Family Feud: Harvey Family Thanksgiving
Between the regular cast, Update desk, and writing staff, there are enough black SNL-ers to make an entire Harvey family. That is truly astounding. Also of note, this was the first time in SNL history that two black hosts were booked back-to-back. Before the 1-2 punch of Tiffany Haddish and Chance, the closest SNL came was in season 28, when Queen Latifah and Bernie Mac made a Salma Hayek sandwich. I have been waiting for SNL to acknowledge Steve Harvey's alleged infidelities. In the current personal-is-political climate, it was a necessary comment to make.
Weekend Update
Speaking of necessary topics to touch on, I was pleasantly surprised Jost went after former SNL writer/performer/update guest Al Franken. It hasn't been a great news cycle for former SNL luminaries. Louis C.K. and Franken are probably the first of what will probably be many buds that will get roasted on their former stage-away-from-home.
Jeff Sessions was back flaunting his possum tail. I really enjoy McKinnon's impish energy when playing this old man. But she never loses sight of the racism at the heart of this possum-man.
"I've had some memory problems stemming from a childhood trauma," McKinnon mumbles through possum teeth. "The passing of the Civil Rights Act."
Pete Davidson was back as his second most popular character, himself. Apparently both Davidson and Colin Jost are from Staten Island, and only one of them is beloved in their hometown. The best part of this bit was how uncomfortable it made alleged sexiest joke-writer Jost. He visibly squirmed as Davidson read out his good notices in the Staten Island paper of record.
MSG Network
Chance played this sketch beautifully, as a basketball commentator forced to cover hockey. His professional veneer slowly froze off. Fed up with names he can't pronounce ("It has like 30 letters in it, none of them vowels"), Chance finds the one black hockey fan and is constantly complaining about how cold he is. Lazlo Holmes trying to talk about hockey is me talking about any sport, interjecting "That's what's up" any time there's a lull in the conversation.
Rap History
Pete Davidson plays a Lil Pump-esque SoundCloud rapper who doesn't give his propers to his hip-hop elders. According to Common, Soul Crush Crew were the only pro-crack rappers. I love anything making fun of old school hip-hop's goofy aesthetic. Unfortunately both Kenan and Chance had amazing looks that were immune to criticism. Karate gi, pearls, brooches on your fur coat, and fingerless gloves? That's just good style.
Career Day
First of all: there are a lot of visible tattoos in this high school. Chance and Mikey Day play the sons of two general contractors. Their dads are following a roller coaster engineer, so the boys are hyping their dads to compensate. It doesn't help, but it is inappropriately sexual. The jokes fall a little flat, which means that one audience member's (sarcastic?) laugh can clearly be heard throughout the sketch. In my head, it was Eminem. This is one of those sketches that doesn't bomb, but doesn't perform entirely on-point. But the performers commit to the end, and you can tell that everyone is having fun partially because things aren't hitting exactly right.
Skank Babysitter 17
It would appear that Heidi Gardner is the new queen of the 10-to-1. During the Gal Gadot episode, she played a heavy-lidded and surly teen. This time, she's a heavy-lidded and agreeable porno babysitter. Only this babysitter is actually babysitting Aidy Bryant's trusting child. Chance arrives as a porno pizza delivery guy, only for the porn to be interrupted by Bryant. Innuendo after innuendo flies over the child's head. I especially liked the recurring use of the phrase "frick yeah" by Gardner and Chance. The sexuality was cartoonish enough to mostly keep the sketch from being problematic and/or yucky. Mostly.