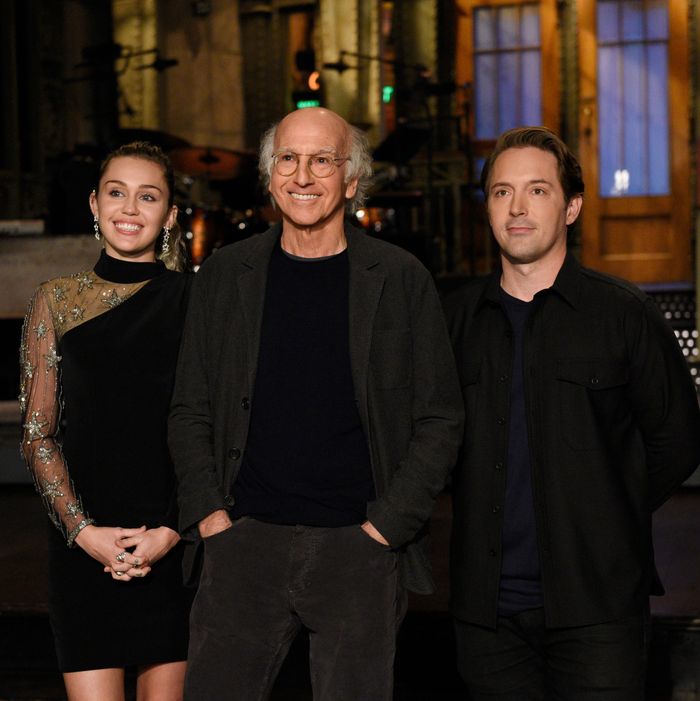 Photo: Rosalind O'Connor/NBC
Larry David, the grousing master of the social faux pas, has been a valuable tool for Saturday Night Live in the last couple of years. Most notably, he's played Bernie Sanders as the flabbergasted, penny-pinching curmudgeon one might imagine the real Bern to be while at home. (Basically, it's David flapping his feathers a bit more than he does on Curb Your Enthusiasm.) When David hosted in February 2016, he got talked into doing some silly ish, most notably neon-suited police-trainer animatronic Kevin Roberts, whose very important question, "Can a bitch get a donut?" still rings in our ears. (If you haven't watched David losing his mind while rehearsing that sketch, do it.) Surely, there's more silliness in store. These days, Bernie isn't making headlines like he did during the presidential campaign, but SNL will surely bring him around tonight.
Paul Manafort's House Cold Open
While he's under house arrest, Paul Manafort (Alex Moffat) gets a visit from Trump (Alec Baldwin) to talk about the aftermath of Robert Mueller's indictment. When the two of them get in the shower to get scrubbed by Mike Pence (Beck Bennett) and Jeff Sessions (Kate McKinnon), Melania (Cecily Strong) tours the world with a blow-up doll she believes to be her husband. There are really big targets and lazy punchlines here — Trump talks "Oriental rugs" and makes "That's what she said," jokes — and it only livens up once Pence and Sessions show up. McKinnon's toothy imp is such a cute and creepy sight, and when she delivers lines like, "I'm a sneaky, lyin' little villain," it's both harmless and completely disturbing. There isn't a lot that's incisive about the entirety of it, though.
Larry David Monologue
David takes his cue from the many stand-ups who have hosted and delivers several minutes of his own material up top. It's clear pretty quickly that he hasn't worked out his jokes the way in which others like Louis C.K. and Chris Rock have. Despite David's claims to the contrary ("I think I'm doing quite well," he tells the audience), the set feels loose and a bit limp. A bit about Quasimoto's picky mating habits feels amateurish ("Does she have big jugs?") and others about becoming homeless and playing chauffeur for a blind woman feel incomplete. One bit succeeds on sheer gall: David talks about how, if he were transported to a concentration camp during WWII, he'd still be obsessed with women but completely unable to connect because "there are no good opening lines in a concentration camp." This one's bold, and feels like a fantastical Curb premise, but in total, it feels like the former stand-up just didn't work at it.
The Price Is Right Celebrity Edition
Taking a break from the Family Feud format, SNL packs a horde of nano-impressions into another game show. This one sees Lil Wayne (Chris Redd), Tilda Swinton (McKinnon), Chris Hemsworth (Moffat), Ariana Grande (Melissa Villaseñor), Tony Bennett (Baldwin, doing one of his standards), and of course Bernie (David) competing with the help of Drew Carey (Beck Bennett) and Sophia Vergara (Cecily Strong). If reading this list feels like a lot, throw in four more Average Joe contestants and imagine packing it all into a sketch of six minutes. Bottom line: Celebrities are dumb and "Tony Bennett likes shit" jokes. It's fine, and there are a few fun moments, but keeping up with it all is a bit much. If you smile thinking about the real Chris Hemsworth debating with his doppelgänger about how many crocodile teeth to bid on a fridge, get in there.
White House Press Conference
Sarah Huckabee Sanders (Aidy Bryant) fends off journalists' questions about the Trump administration's connections to Russia and the sexual-assault allegations against the president himself. In the middle of it all, she imagines herself in a sexy video where she sings Demi Lovato's "Confident," and strips down to a tiny pink jacket and leotard while owning everyone in sight. Meanwhile, her pronouncements get more and more insane, like, "History is a bottle of moments filled with time and horses and the invention of the telephone." This feels like a brainstorming session to try and find something fun about Sanders, who, for better or worse, lacks charisma when compared to Sean Spicer. Though Bryant's performance is great — she's got the dead-eyed gaze and drawl down — the song choice and the writing don't carry her that far.
Career Retrospective
At its annual dinner, the Ad Council is awarding the ponytailed Martin Hamill (David) its lifetime achievement award in part for campaigns like McDonald's "I'm Lovin' It." To celebrate his long history, the emcee (Strong) plays a few of his old PSAs for the crowd on a projection screen. In one, a kid avoids peer pressure by saying, "Smoking? No way. That's gay." Hamill tries to explain himself — it was a different time then, and kids used that word just to mean "bad." The crowd doesn't buy it. Despite good intentions, his other ads don't far much better ("Making fun of someone with a disability is retarded."). It's a jokey play on the ways that colloquial language has changed in the past 30 years, and watching David squirm is a national pastime that rivals baseball.
The Baby Step
This rap video finds a cast of SNL players (Redd, Davidson and Thompson, alongside Miley Cyrus) in bonnets and diapers, spitting rhymes about little bits of forward momentum in relationships. While introducing characters with names like "Soft Spot" and "Baby Snatch," the camera cuts to David in his dressing room refusing to be a part of such a stupid exercise. As the players carry on with lines about "all these MILFs trying to breast feed me," David gets more and more fed up with interruptions. Eventually, he chews out Thompson and the rest for playing along with something so dumb. This sketch is what happens when someone wanted David to chastise them on set. The video, with its big costumes and high production values, is just a mediocre visual gag and David's brief rant can't quite justify it.
Weekend Update
In the first segment of Update, the anchors mull the big headlines in Washington, including Manafort's indictment and the new Republican tax plan. Michael Che and Colin Jost get applause for telling Trump to get off Twitter and for defending the Diversity Immigrant Visa Lottery after the attack in New York: "I'm not sure we should get rid of an entire immigration program based on the actions of one deranged individual. We don't look at Trump and say, 'Let's get rid of all presidents.'" Jost also tells a nice one about Trump's trip to Asia, where aides have told foreign leaders their boss does better with steak and ice cream than he does with "new cuisines." Jost adds, "And they'd also like easier mazes on his placemats." Eric and Donald Trump Jr. (Moffat and Day) come on to defend their dad and do a poor job of it. While the bit isn't all that tightly scripted, Day and Moffat really inhabit the empty blowhard Don Jr. and hapless Eric. Moffat's mugging and mirroring his brother has really begun to steal the show in these bits.
While there are just a few jokes before the next character, there's a great one about the STDs one might catch on MTV's new Jersey Shore–inspired show. New featured player Heidi Gardner comes on as Angel, Every Boxer's Girlfriend from Every Movie About Boxing Ever. Although she's meant to deliver some kind of good news to viewers, she's tear-stained, beleaguered, and can't talk about the news because she's constantly threatening to take the kids to her sister's house. It's a nicely observed bit, Gardner sells it well, and the audience slowly comes around to its charms.
The last segment features just a couple of jokes before Leslie Jones comes out to talk about her budding interest in baseball — or, more to the point, her interest in New York Yankees players' asses. After some sex-and-sports puns, three of the players from the Houston Astros show up to convince Jones to switch her allegiance. Because they're cute, she's happy to be convinced. No, there's not a lot to the writing, but the visuals of Jones cradling and petting the diminutive José Altuve in her lap has its own joys.
Fresh Takes
In this parody of a political round table, Dustin Purcell (Day) and his cohorts Scott (Moffat), Crissy (McKinnon), and AP History teacher Mr. Burton (David) dish hot takes on the news concerning Lincoln High School's freshman class. Who beefed in first-period gym? Are Daniel and Kristi really going together? What are the results from the scoliosis test? Oh, and why does Mr. B know so much about the sex lives of his students? It's more about the tone than the story arc, but it's fun to watch the teen chatter blown up to epic proportions. Likewise, there's something satisfying about watching David go all TMZ and tell everyone about which students famously hate wearing condoms.
New Wife
Vincent (David) brings his co-workers to a house party to celebrate his marriage to Candace (Strong), a flashy performance artist who is "gay famous." (She is the "kitty ambassador to the Twink Republic of Quwonk.") The uninitiated bystanders are a little confused, but do their best to play along as Candace hollers, "Are you bitches ready to make nasty?" and dances with hot boys in briefs. Vincent tries to keep all of his co-workers' doubts at bay, but eventually there's too much weirdness for their tastes. This sketch is worth it for David's over-the-top costume, all of the little bits of ridiculous lingo, and because David can't keep it together when talking about "power bottoms."
Beers
During this early '90s sitcom parody, Josh and Mario (Bennett and Mooney) convince their cousin C.J. (David, in backwards baseball cap) to feed a fish while they go on a bike ride. Too bad C.J. only wants to drink beer and smash chairs against the wall. Much in the way of all Very Special Episodes of network sitcoms in the era, C.J. is probably an addict. Josh and Mario confront C.J., he agrees he has a problem, and then they all drink to celebrate. Anyone who has watched enough canned '80s or '90s sitcoms with big lessons to teach will enjoy the stilted plot points and deliberate overacting as well as the wild twists, like C.J. suddenly drawing a knife and stabbing his friend. The playful absurdity of this Bennett-Mooney joint makes it a perfect five-to-one sketch.
Unlike David's first hosting gig, this outing is pretty hit or miss, and the first half of the show is a little dull. The political sketches seem to suffer from the departure of former head writers Chris Kelly and Sarah Schneider; both the cold open and the takedown of Sarah Huckabee Sanders lack bite. Though David wrote his own monologue for the top of the show, it feels uninspired. From Update on, though, there are lots of good ideas and even more playful performances. The costume and wig crew win big this week for providing a number of elaborate coiffures and unlikely outfits for David.