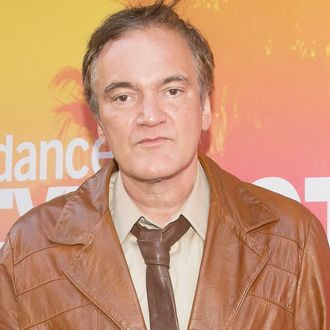 Quentin Tarantino.
Photo: Gabriel Olsen/FilmMagic
Sony has won the bidding war for Quentin Tarantino's next movie, a drama set in Los Angeles in the 1970s and '80s, during the time of the Manson murders. After Harvey Weinstein's sexual-assault scandal erupted, Tarantino pulled the feature — referred to as #9, since it's the director's ninth movie — from the Weinstein Company, despite working with the Weinsteins throughout his career. Sony beat out the likes of Paramount and Warner Bros., according to Deadline. Fox, Universal, Annapurna, and Lionsgate were also vying for distribution rights to the film. Per Variety: In an effort to woo Tarantino, Warner Bros. adorned its entrance with cars from the 1960s and outfitted a conference room with vintage furniture. Sony, meanwhile, made a "multimedia presentation."
Details on the movie are sparse — initially, the studios themselves had to read the script at the offices of WME, which reps Tarantino — but it's said to be plotted similarly to Inglourious Basterds. Deadline reports that Tarantino has met with all your 1990s crushes — Tom Cruise, Brad Pitt, and Leonardo DiCaprio — for the two lead male roles in the ensemble, and wants Margot Robbie to play Sharon Tate.