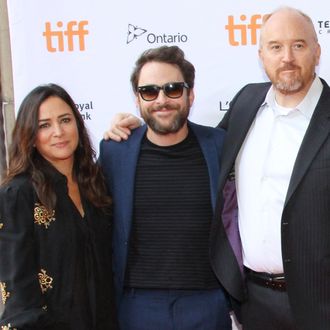 Pamela Adlon, Charlie Day, and Louis C.K. attend the TIFF premiere of
I Love You, Daddy
.
Photo: Jeremy Chan/Getty Images
As the Orchard reevaluates the release of Louis C.K.'s new movie I Love You, Daddy, the stars of the movie are backing away from it. Charlie Day, who plays the assistant to C.K.'s character in the movie, provided a statement to the Los Angeles Times that said, "I was as appalled as everyone to read the allegations made in the New York Times," adding, "I do not condone sexual misconduct and, in light of the allegations, will not be promoting the movie further." A story published by the New York Times detailed allegations of sexual misconduct by C.K., and it included multiple accusations of the producer/comedian masturbating in front of women without their consent. In I Love You, Daddy, about a TV writer and producer (C.K.) whose teenage daughter gets involved with a 68-year-old filmmaker, Day's character has a scene in which he pantomimes masturbation while discussing a female character with C.K. A publicist for Chloë Grace Moretz, who plays the teenage China, told the Times she backed out of all promotion for the film two weeks ago "when she was made aware of numerous possible accusations."
FX Network, which has aired five shows produced by C.K., released a statement saying, "The matter is currently under review," while HBO has declared that they will remove any C.K. projects from their streaming service. Day's co-stars Rose Byrne, Edie Falco, Helen Hunt, Pamela Adlon, and Malkovich have not yet commented on the situation.