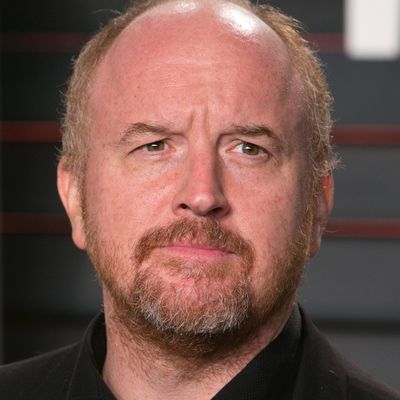 Photo: ADRIAN SANCHEZ-GONZALEZ/AFP/Getty Images
Over the past year, many of TV's late-night hosts have reasserted their place in the cultural consciousness by offering surprisingly incisive and/or impassioned commentary on the terrible people and things afflicting America. Then, a curveball: One of their own, a prominent comic, joined the terrible-person ranks. Here's how late night handled the story. (It should be noted that the story first broke around 3 p.m., only giving most shows two or three hours to prepare.)
Conan
Conan O'Brien didn't talk about it during Thursday's show (which included Mel Gibson as a guest). Louis C.K. was a writer for Late Night With Conan O'Brien when the show launched in 1993, and has reminisced about his time writing for O'Brien on both Conan in 2013 and Late Night With Seth Meyers in 2015. He's been a frequent guest on Conan.
The Daily Show
Trevor Noah referenced the Louis C.K. news as part of a larger bit about bad famous men. While discussing Facebook's new policy on submitting nude photos for review to protect its users, the host said, "When I saw this story, I thought, man, this is the most pervy story of the day, and then Louis C.K. said, 'Hold my penis.' Like, at this point, we're going to need a new Oscar category this year — Best Actor Whose Movies We Can't Watch Anymore. Now that I think about it, all women in Hollywood should win double Oscars for acting like all the men were cool all along, every single one of them. I'm just fucking saying."
Miming the repeated refresh-clicking of an obsessive social-media user, he continued, "It's getting to the point where I see a beloved celebrity's name trending on Twitter, and I'm like, 'Please tell me they're dead, please tell me they're dead, please tell me they're dead. Ah, dammit. Every day!'" Later in the episode, Lewis Black — while showing how many politicians, including Chuck Schumer and Lindsey Graham, didn't know the U.S. had troops in Niger — said, "Why can't we just fire you guys, like President Kevin Spacey?"
Jimmy Kimmel Live
Kimmel didn't talk about it. Louis C.K. has made multiple appearances on Kimmel's show, and he and the host share the same publicist.
Late Night With Seth Meyers
In his monologue, Meyers joked, "According to the Washington Post, controversial Alabama senate candidate Roy Moore reportedly engaged in inappropriate sexual conduct with an underage girl when he was 32 years old. Man, politics is so full of perverts and deviants; I'm just so glad I work in comedy." Then a photo of the New York Times story on Louis C.K. appeared on the screen, and Meyers yelled, "Ahhhh, dammit!"
The Late Late Show With James Corden
Corden didn't talk about it.
The Late Show With Stephen Colbert
Louis C.K. was scheduled to be a guest on The Late Show Thursday night to promote I Love You, Daddy, but his appearance got canceled that afternoon. Colbert addressed the situation during his monologue, saying:
"For those of you tuning in to see my interview with Louis C.K. tonight, I have some bad news. And then I have some really bad news. Louis canceled his appearance here tonight because the New York Times broke this story today: five women are accusing Louis C.K. of sexual misconduct … Now, these are disturbing allegations." Colbert then noted that it's "the latest in an avalanche of powerful men" to be accused of serial assault and/or harassment, including Harvey Weinstein, Roger Ailes, Bill O'Reilly, and Kevin Spacey, and said that, "A lot of men look at this misbehavior, and they feel 'There's nothing I can do!'" Then he segued into a bit about "soul-patch safe space" Keith Urban and his new empowerment song "Female." Colbert worked for Louis C.K. on The Dana Carvey Show in 1996.
The Opposition With Jordan Klepper
The newest member of late night, Klepper — in character as his conspiracy-loving, alt-rightish persona — started his latest episode with a segment aimed at Louis C.K., Alabama's GOP Senate candidate Roy Moore, and a trait that seems to connect so many people accused of sexual misconduct: "Big news today affecting the world's most vulnerable population: powerful white men."
He went on to mock both the culture surrounding artists' supporters, and the perviness of Louis C.K.'s Woody Allen–inspired film:
"Good lord. It's a confusing time, so we should return to what we know: good old-fashioned phrases people say when sexual assault allegations arise. Phrases like, 'You should separate the man from the art.' So please. When you are watching Louis C.K.'s movie I Love You, Daddy, a film about an old man dating an underage woman featuring a serial masturbator, please: Don't think of Louis C.K.'s accusers."