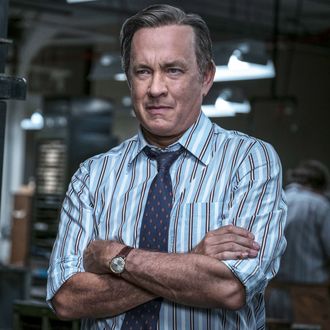 Tom Hanks in
The Post
Photo: Niko Tavernise/20th Century Fox.
The embargo for reviews of Steven Spielberg's newsroom drama The Post doesn't lift until December 6, but critics have already begun to tweet their thoughts on the film, especially their love for Meryl Streep. Mark Harris called Streep's performance "astounding," and BuzzFeed's Adam B. Vary called it "her best performance in years." Reactions to the rest of the production have also have been overwhelmingly positive, and just today the film received top honors from the National Board of Review. Since Monday night, folks on Twitter have praised the film for its actors, cinematography, screenwriting, and Spielberg's directing. Take a look at some of the initial reactions below:
The Post is set for a limited release on December 22.