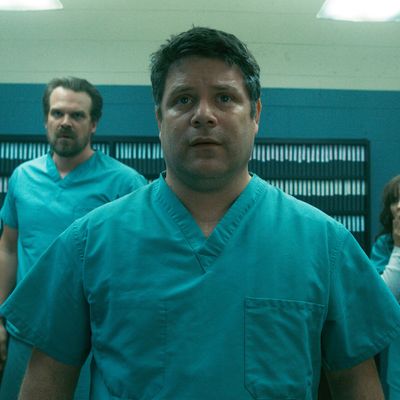 If you haven't watched Stranger Things 2, turn away or be faced with some major spoilers.
If you've seen Stranger Things 2 in its entirety, then you're probably still processing the untimely demise of Bob Newby, the all-around good, nerdy, tech-savvy guy who gets heartlessly mauled by a Demodog in episode eight. Well, here's some information that will might make you feel better (or not). Thanks to what actor Sean Astin brought to the role, Stranger Things 2 had more much more quality Bob time than it otherwise might have.
"He was going to die around [episode] four," Matt Duffer, who co-created Stranger Things with his brother, Ross, said in a recent Vulture interview. "We just kept delaying it because we started to really like the character, and he started to become more important to the plot. We just kept pushing his death further downfield until we got to the point where it was going to happen in episode eight."
"Then we wrote it," Matt Duffer continued, "and I had a bit of a breakdown. It felt really nasty to write. It just really hurt, and I was like, 'This doesn't feel right, I don't want to lose this character, I don't want to lose Sean.'"
Ultimately, the Duffer brothers concluded that it wouldn't make sense for Bob to stick around into season three and made the difficult call to sacrifice him to the ferocious Demodogs, even though they say Astin tried to talk them out of it. Once it became clear that Bob's fate could not be avoided, Astin also apparently pushed for it to be as gruesome as possible.
"Sean is the one who talked a lot about Quint from Jaws, like, 'If I'm gonna die' — and he didn't want to die — 'let's shoot the hell out of this and let's not shy away from it,'" Ross Duffer recalls. "For Stranger Things the show, it's a pretty brutal death, and that's the result of Sean wanting us to not hide from it, to actually show it."
One person who definitely was not happy about Bob dying — besides, you know, most of America — was Winona Ryder, who played Bob's onscreen girlfriend, Joyce Byers.
"The most texts I've ever gotten from Winona was when she read the script for episode eight where Bob dies," Ross Duffer said. "It was like, 'You're monsters!' She was not thrilled."
"It was tough on Winona because Winona also loved Sean," Matt Duffer said. "Somehow they knew each other [before Stranger Things]. They were bonded, they were both child actors, and then they just really got along. They were always together on set, and really good friends. Winona also, when she's shooting a scene like that, she doesn't turn it on and off very easily. So it was really just an emotional day [when we shot Bob's death]."
On the other hand, eight episodes with Bob — well, technically seven, since episode seven focuses entirely on Eleven — is better than just four. Right?
For more on what it was like to shoot that Bob death scene, keep an eye on Vulture's ongoing series of Duffer-caps, in which the Duffers break down the big moments and decisions in each episode of Stranger Things 2.
Get all your Stranger Things 2 questions answered at the show's Vulture Festival L.A. panel on November 18! Tickets are available here.