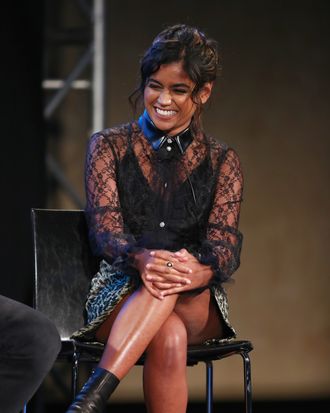 Photo: Joe Scarnici/Getty Images for Vulture Festival
The addition of Linnea Berthelsen's "lost sister" character on Stranger Things deepened Eleven's (Millie Bobby Brown) backstory (and made for one hell of a controversial episode). But El's lost sis wasn't originally intended to be played by newcomer Berthelsen, or a woman at all — it was intended to be a 30-year-old man.
"We put out title concepts a really long time ago, it was called 'The Lost Brother,'" co-creator Matt Duffer explained at the show's 2017 Vulture Festival Los Angeles panel. "Initially, we were looking for a guy. Eleven would have a brother and we were looking at like 30-year-old men — which is hard to wrap my head around now."
He and his brother and co-creator, Ross Duffer, tested out the idea of giving Eleven an older brother, but it wasn't quite clicking. "Nothing was that interesting to us and we said, Let's open this up, let's go younger," Matt says. "Let's make the age group much wider and open it up to women and girls."
Casting Berthelsen as Kali came down to her on-point chemistry with Brown. "You're just looking for something that inspires you or is interesting at all," Matt says. Berthelsen says she was only somewhat familiar with the show, but she jumped at the chance to join — she sent in her audition tape within the three days she was given to do it. "It's also super fun to have a discovery and that's really what we were looking at, someone we hadn't seen before," Matt adds.
Although the third season has yet to be officially confirmed by Netflix, the creators are confident they'll write Kali into future episodes: "It would feel weird not finishing that story line."