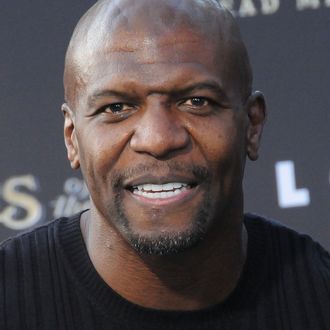 Crews.
Photo: Barry King/Getty Images
A month after Terry Crews shared his own personal sexual-assault story on Twitter in the wake of the Harvey Weinstein scandal, the actor has reported the incident to police. The LAPD tells TMZ that Crews filed a formal complaint on Wednesday against a Hollywood executive he previously claimed "groped [his] privates" at an event last year. Though Crews hasn't publicly named the accused, a report identified the exec in question as WME agent Adam Venit, who has since taken a leave of absence from the agency. According to TMZ, the incident is recent enough to launch a criminal investigation. In his original tweets, Crews said he received a vague apology from the exec after the alleged groping, and decided not to go public with his story earlier for fear of being "ostracized" in the industry.
Update, November 9, 10:50 a.m.: The LAPD has confirmed to THR that it is investigating Crews's report of sexual assault. The department has not named the suspect.
Update, November 9, 6:13 p.m.: THR is now reporting that Crews has terminated his relationship with the agency WME. Venit, who is on leave from the agency as of last Friday, was not part of the team representing Crews.