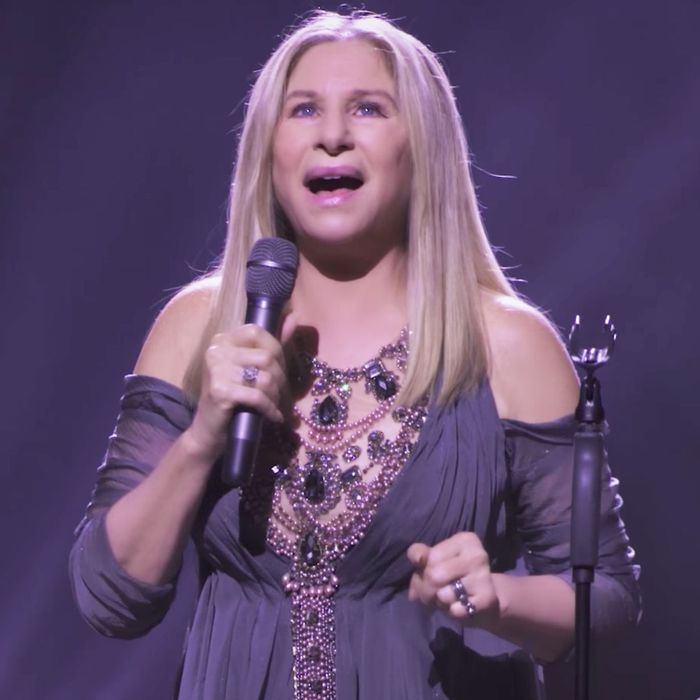 Streisand.
Photo: Netflix
There are moments in life when you realize that the past isn't really all that far gone, and watching a YouTube clip of Barbra Streisand performing with Judy Garland on the latter's 1963 variety show is one of them. Streisand and Garland sang "Happy Days Are Here Again," a song that initially became popular in the 1930s when FDR used it in his campaign for president. Garland, too, hit it big in the 1930s. She was one of the most famous women of the 20th century, the girl with the glittering red shoes who goes from black-and-white to Technicolor on a yellow brick road in 1939; the powerful voice who sang one of the most melancholy and popular songs of all time, "Over the Rainbow"; the pioneering gay icon whose death has been mythologized as one of the springboards for the clapback of the Stonewall riots. "She came to my apartment in New York, and she said to me, 'Don't let them do to you what they did to me,'" Streisand told the New York Times last year.
Garland died a short six years after singing with Streisand. She's now known as a pinnacle of Hollywood's golden era, and as an archetypal tragic celebrity with a drug problem. Seeing her next to Streisand, though, you feel so close to her that you could reach out and touch her, and Streisand actually did touch her.
Streisand is still with us at 75, and regularly revisiting her own memories for us to cherish. It is, almost more than singing, what her primary occupation seems to be in 2017. She is now living, breathing nostalgia.
On Netflix, she is starring in a documentary/concert film (the new status symbol for pop stars like Lady Gaga and Demi Lovato since the success of Bieber's Never Say Never), filmed in Miami, on the last date of her 16-city 2016 tour. It is called Barbra: The Music, The Mem'ries, The Magic!, and it conveniently debuted the night before Thanksgiving. It's a cozy viewing option for the whole family (except your Trump-loving cousins; true to fashion, the notoriously liberal Streisand is strident throughout the night in her political commentary).
Streisand, ever a luxurious queen, is here to give her audience what it wants and expects: The film opens with her, in a black beret, flying to the venue on a private jet through tranquil clouds, kissing her little white dog Sammie (can you be a diva without a little dog?) before being ushered to the show in a black SUV. There are a few brief moments of preparation that also act as nods to her perfectionism and obsession with quality: rather than use a makeup artist, she does her own; and her anxious pacing is briefly assuaged by the mocha-java ice cream she finds backstage. "There's a nervousness she's had all her life, primarily because she likes to really be in control," her longtime manager Marty Erlichman is filmed saying.
This is pretty much the last behind-the-scenes look at her life we get, which is fine, because we're here for the music and the remembrances. As she steps out onto the stage, a big Yamaha behind her, she hums and then opens with the word "memories"— or "mem'ries," as she seems to prefer — from the "The Way We Were," a kind of hypnotic induction into a dreamscape. She sings "Happy Days Are Here Again," just one month after an election victory that, for many, felt about as bleak as the Great Depression. Outside of the American Airlines Arena that night, the country might have been self-immolating, but inside, it was no particular time at all. It was just a big dark room with a scrapbook of photos projected on a video screen behind a beloved star, chopped up and blended from from a career and life that's sailed for more than 50 years on calm waters.
It's shocking to watch Streisand belt out music from the past six decades, and realize how much things — at least for her — haven't changed. Her first album came out in 1963 — when, as she tells the audience, a "tweet was what a bird did"— right before the upheaval of the later part of that decade, and the explosion of rock and roll made crooners like her seem uncool to many, but cherished by some as steady ground to stand on in a rapidly shifting world. In some ways, she was already a symbol of nostalgia even when she was just getting started: a comforting link to an old way of doing things for squares freaked out by LSD and the Beatles; a young person that old people could still understand and who could remind the world that some essential and precious things never change.
Streisand is essentially genre-less, but her music could be best described as extremely moderate middle ground between jazz and pop. She is, most of all, misty and sentimental, singing about eternal love, the love who never loved you back, and, often, the ennui from a lost love you'll never stop remembering. Her songs are like romance novels you find at the airport: all essentially the same, shiny on the outside, gushy on the inside, a window into a kind of burning passion that you probably do not possess in your own life because that kind of idealized passion can only exist in dreams. In other words, Streisand's music is shlock.
There are moments in which she has introduced light, trendy stylizations into her work, and some of them are pretty enjoyable, like her song "Woman in Love," which she made with the Bee Gees in 1980. But you do not buy a Barbra Streisand album for innovation. You show up for "The Voice," which just needs clear skies through which to fly.
Streisand's work has been, in its own way, quite fertile and influential: her influence extends to Céline Dion, the 1980s output of Lionel Richie and Luther Vandross, and the more maudlin ballads of Mariah Carey, Adele, and Whitney Houston. There is an innocence and wonder in her best music, much like Garland was able to achieve with "Over the Rainbow." It's cheesy, but hearing her do "Pure Imagination" from Willy Wonka & the Chocolate Factory, after introducing it as a respite from a "frightening" world of melting glaciers and extreme storms, you do feel okay for at least a couple minutes.
Other than a 1979 duet with disco queen Donna Summer from when, as Streisand says, she was "trying to be hip," everything she sings onstage in Miami is timeless, not in the sense that that word is typically used, but literally. In her songs, practically the entire history of American music is both present and erased. Her voice is a kind of technical marvel (there is a fan-made YouTube clip that proudly advertises that she held a C #5 for 19 seconds) and is basically as steady as it's ever been, but it is now flatter. She sings show tunes and schmaltz, jazz numbers and protest songs, and they all just sound like Barbra: silky, never obtrusive or unpolished. She hits a sweet spot between soulful and soulless. Barbra Streisand is not rough around the edges. She possesses no edges at all. Her voice now reminds me of plastic on top of furniture: You can realize there's lushness beneath, but something stiff and protective is keeping you from entirely enjoying it. By the time Jamie Foxx shows up for a surprise duet and a welcome moment of electricity, you realize just how little Streisand has gone off script. "I can't wait for my mom to see this," he says of their performance together.
Streisand's instinct for ageless affectation has served her very well. The concert is a celebration of the fact that she is the only artist who has had a No. 1 album in each of the last six decades. But watching the documentary, I couldn't help but feel that her understated consistency has diminished her in other ways that I bet she nor her fans pay any mind to. The 21st century has moved on without Streisand, and she was once the most well-known woman in the country: "There is celebrity and then there's a class all by itself," Oprah — who would know — once said while welcoming Streisand onto her show in 1996. "On my list of celebrities, you're number one." The millennial generation, though, hasn't warmed to Streisand as it has to other divas of times past. Think of the way that Aretha Franklin has been memed into modernity (that inauguration hat!) and can go viral (that Kennedy Center performance!) with the best of them, or the way that a classic photo of Dolly Parton has about as much clout on Instagram as one of Kim Kardashian, and that "Jolene" is an enduring karaoke classic performed by Miley Cyrus pretty much any chance she gets. Cher's and Diana Ross's cheeky Twitter feeds are endless founts of joy, too. Even Tony Bennett got another go on his album of duets with Lady Gaga. Though Streisand can invoke nostalgia powerfully for her loyal fans in concert, she has been less able to convert the uninitiated.
It's hard to say exactly why Streisand hasn't appealed to a new generation the way some of her peers have. Maybe she doesn't care. But she's more of a trailblazer than people give her credit for. In her career as an actress and director — the vocations that she has long said are more important to her than singing — she has taken real and important chances. Streisand directed her first movie, Yentl, back in 1983. It's a strange story about a Jewish girl who pretends to be a boy so that she can continue to study the Talmud. It's not exactly Star Wars, but it was a huge success, winning Streisand the first best director Golden Globe ever awarded to a woman, and it wasn't even her first major film award. She won an Oscar for best actress for 1968's Funny Girl.
Streisand has always been a little looser and realer in film than she has been in her music. Her movie, The Way We Were, continues to be a treasured and relatable weeper, serving, memorably, as an inspiration for Sarah Jessica Parker's Carrie Bradshaw character and the rest of the Sex and the City women. More recently, Streisand starred in both Meet the Fockers and The Guilt Trip, offering knowing takes on the Jewish mother archetype. Neither are masterpieces, but both show a self-effacing side of Streisand that isn't present in her music. As she proved in her stage banter, she still knows her way around a hammy Borscht Belt–style joke: "I'm talking about the kind of heartburn you can't get rid of with a Zantac!" she says, as she introduces an old Stephen Sondheim Broadway number called "Losing My Mind."
Streisand has been an outspoken liberal figure for decades. She was was radical enough to be on Nixon's enemy list back in the '70s for supporting Democratic causes. And, as she said onstage in Miami, she decided to act in A Star Is Born in 1976 because she liked that the character "owned the feminist spirit" that was her philosophy then, as it is now. She was an early mogul in control of her own career. As Streisand proudly mentions in the film, her record contract from the very beginning gave her full creative control, down to the album cover. "That word aggressive … We're just measured by a different standard. He's committed. She's obsessed. It's been said that a man's reach should exceed his grasp. Why can't that be true of a woman?"
And then there's her nose, a legacy of hers that is important to a Jew like me. I look out at Hollywood's most coveted faces today and I see few (if any) snouts with as much character as the beautiful sloping mountain range in the center of Streisand's face. It's nice to have at least one example of a hefty nose that its owner did not see as an impediment to success. "My nose was part of my heritage, and if I had talent to sing and to act, why wasn't that enough?" she told Glamour. She even sometimes accentuated it in photo shoots. In Diana Vreeland's Vogue — in a 1965 black-and-white sitting for Richard Avedon — she playfully squeezed her nostrils so that they became attention-grabbing punctuation points beneath a pair of glamorously kohl-rimmed eyes.
It doesn't really matter if anyone but the rapt megafans in Miami are still in love with Streisand. This film establishes something more secure than escapism: a celebration of untarnished legacy. People continue to turn to Streisand precisely because she is so familiar, and because she offers reliability. It's not flashy or especially modern, but it is effective enough to keep her relevant forever.