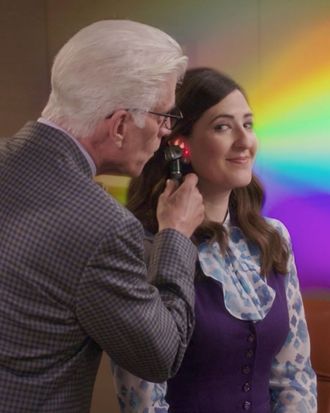 When The Good Place's visual-effects producer, David Niednagel, comes to work every day, he faces a difficult challenge: What should the afterlife look like, and how do you make it funny? The NBC sitcom has expanded its scope in its second season, starting to reveal the inner workings of its universe, which means that Niednagel has been hard at work, figuring out ways to depict the malfunctions of Siri-like Janet, giving a context to the Medium Place, and even conjuring a unicorn. In the wake of last night's mid-season finale, Vulture caught up with Niednagel to get the stories behind some of this season's best visual tricks.
Janet's Malfunctions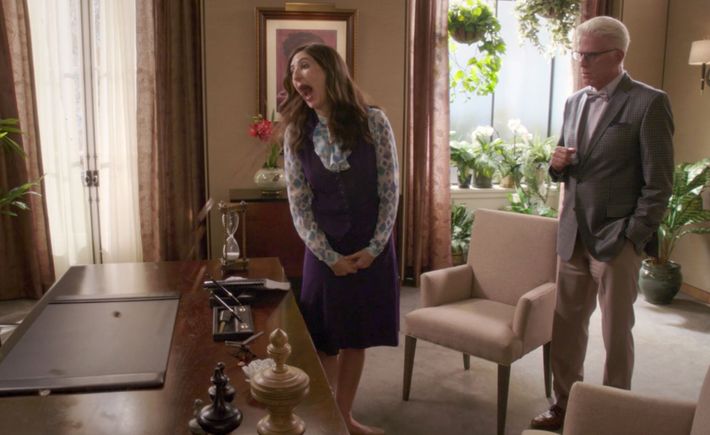 The Good Place isn't a big-budget blockbuster, so "whatever we can get in camera, we try to get in camera," Niednagel says. For many shots, such as the scene where Janet vomits pennies in episode six, The Good Place relied on practical effects: They constructed a tube to fire pennies over the table, and then had D'Arcy Carden, who plays Janet, in where the pennies came out. "There were three shots, where she starts throwing up and then it starts going across the table. Those are practical pennies coming out of a tube with a little bit of CG pennies," Niednagel said. "Then she turns towards camera, and those are all CG pennies because there's no way we could get practical pennies to do that. There's another shot where you're to the back of her and the pennies are going in Ted's jacket, and those are all practical pennies."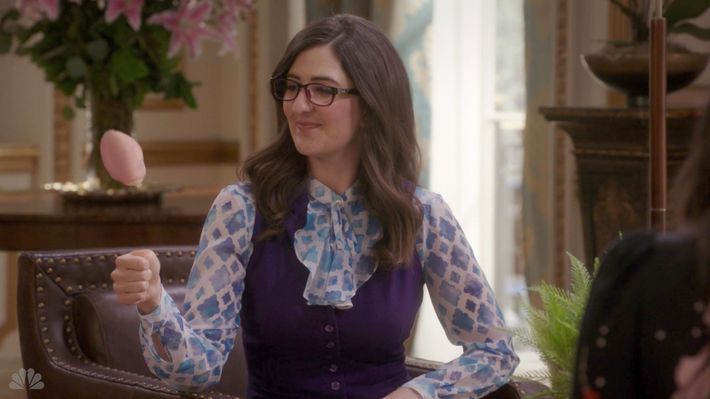 To figure out the right rhythm for gags like these, which also include a scene where Michael refracts light through Janet's ear like a prism, and where her thumb starts to float out into space, Niednagel tests out the basic timing with his kids, who are 8 and 10. Then, he consults with the cast, crew, and creator Michael Schur about questions like, "How long do we want the thumb to take to get off her hand and how fast will it float up?" The goal is to make it as simple as possible while also making sure the joke lands. "With Mike, at the beginning, he said, 'If anything's too hard or too expensive, let me know. I'll come with something new,'" Niednagel said. "Fortunately, we've never had to do that."
The Random Object Generator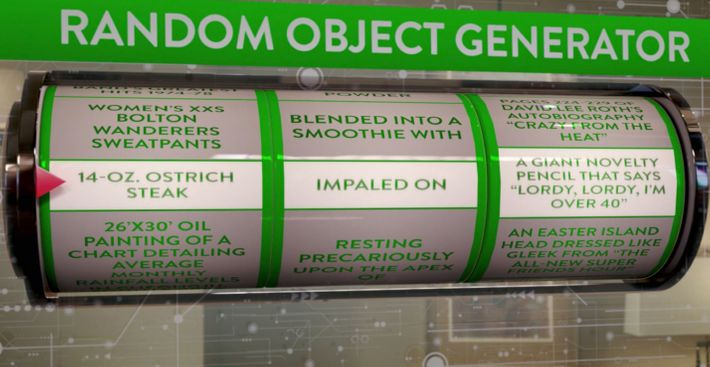 All of the computer screens on The Good Place share an aesthetic: a sleek but colorful look that's like iOS by way of kindergarten whiteboard. Niednagel contracts the design for the screens out to an effects artist named Olney Atwell, who designed everything from Michael's presentations to the Random Object Generator, which he uses to run a test on Janet in episode six. Once the effects team had the design, the show's writers filled in a variety of options. The object generator became one of Niednagel's favorite effects, because it exemplifies the kind of gag that the show's viewers will pause on and pick apart. "You're glad that they took the time and are appreciating it," he said.
The Unicorn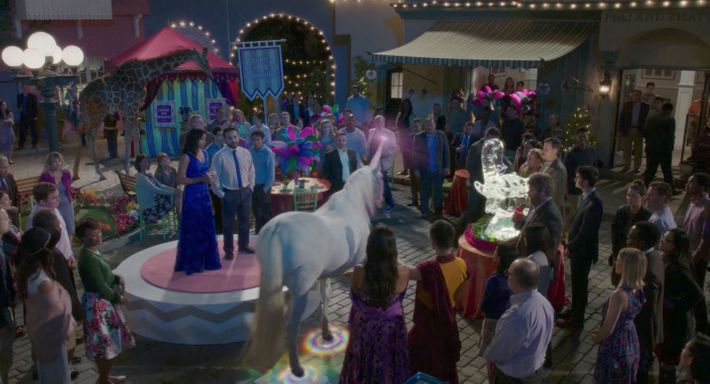 Originally, the unicorn that appears at Tahani's party in episode four was a practical effect. It's easy enough to strap a horn on a horse, but when the horn kept bouncing around with the horse's movements, Niednagel went in to fix the shot with visual effects. In the process, he added an aura around the unicorn to make it better fit in the shot. Schur liked the effect enough to tell Niednagel to put in even more. Voilà, rainbow unicorn!
The Medium Place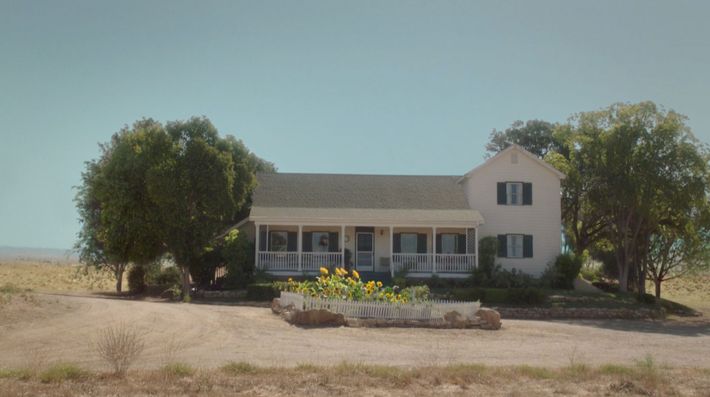 Of all the effects work on The Good Place, the shots where Niednagel's team has to edit houses or people into a larger environment tend to be the hardest "because you know what's real and not real and your brain quickly tells you if something's off." The team uses matte paintings or CG for these effects, such as establishing shots of Eleanor's house, which is placed in the middle of field at Pasadena's Huntington Library. For the Medium Place, inhabited by exactly morally okay Mindy St. Claire, Niednagel replaced the entire outside environment. The house they used was surrounded by trees and mountains, but Schur decided the Medium Place should take place in an empty expanse. "We had to do a lot of work to make it look like it was out in the middle of nowhere," Niednagel said.
When Eleanor Broke the Neighborhood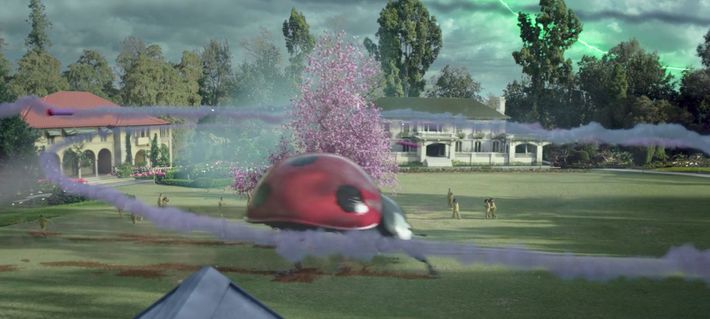 Niednagel worked with director Drew Goddard (The Cabin the Woods) on some of The Good Place's most ambitious episodes, including the pilot, where everything goes crazy after Eleanor gets drunk at a party, and "Dance Dance Resolution," which takes a Groundhog Day–style approach to a series of repeating timelines with slight variation. For the pilot, Niednagel said, a lot of the challenge lay in working quickly under a deadline and figuring out exactly which camera angles to use. The next time around, Goddard filled "Dance Dance Resolution" with lots of smaller visual jokes, which Niednagel helped plan out, including a chowder fountain. That, however, wasn't made with digital trickery. "I was looking into doing it with visual effects, but special effects was able to pull it off," Niednagel said. "I don't know offhand what it was [in the fountain]. It definitely wasn't chowder, because that would have been a very stinky day on set."