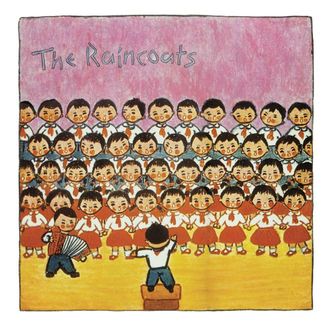 Photo: The Raincoats/Rough Trade
Still riding the wave of Nirvana-mania that grunge-ified all facets of pop culture in the early '90s, Nirvana's label DGC compiled Incesticide, full of rare singles, B-sides, demos, and other ephemera from the band. At first, Kurt Cobain resisted the blatant stopgap cash-in move, only agreeing to it when he was given complete artistic control over the album's cover art (which he painted) and the liner notes (which he penned). But those hoping for insight into the writing process behind songs such as the cock-rock mash-up of "Aero Zeppelin" and the juvenile cunnilingus ode "Mexican Seafood" were instead regaled with a story about Cobain's trip to London and his frantic search for the self-titled first album by British punk band the Raincoats, originally released in 1979 and long out of print. His quest for an album he described as "wonderfully classic scripture" led him to Raincoats' singer Ana da Silva, since retired from music and working at an antique shop that Cobain described as "elfin." A used copy was scrounged up and mailed off to Cobain, whose joy was sovereign, as he wrote in the notes: "It made me happier than playing in front of thousands of people each night, rock-god idolization from fans, music industry plankton kissing my ass, and the million dollars I made last year. It was one of the few really important things that I've been blessed with since becoming an untouchable boy genius."
A year on, DGC reissued the Raincoats' three-album discography and — at Cobain's urging — the group re-formed to tour with Nirvana in the spring of 1994. His suicide a week before the tour scotched such plans. But ever since, the Raincoats have continued to wax and wane in the public conscious. Recently, the band even returned to the Kitchen (the New York venue they played back in 1982), where band founders Ana da Silva and Gina Birch screened their art-school films (da Silva's featured images of her icons Patti Smith and Lou Reed while Birch's films — entitled "Scream," "Burning Bras," and "I Will Never Wear Stilettos" — speak for themselves) and even snuck in a short, joyous live set. Their last night at the venue, they were even joined onstage by three members of pioneering riot-grrrl band Bikini Kill.
Last month saw the release in the 33 1/3 book series about that first Raincoats album, a deep exploration that doubles as a love letter penned by Pitchfork editor Jenn Pelly. For anyone who has ever felt delectably off-center upon entering into the Raincoats music, the book is revelatory, showing how da Silva, Birch, violinist Vicky Aspinall and galloping drummer Palmolive crafted their intimate, thrilling, teetering, empowered, messy, heart-bursting music. Call it punk, but the Raincoats also pulled from folk, reggae, disco, African rhythms, and Velvet Underground–inspired noise, upending the tropes of rock machismo along the way.
The book traces the band's secret history, from their roots growing up in the restrictive fascist regimes in Portugal and Spain in the early '70s (in the case of da Silva and Palmolive, respectively) to being the first band on the U.K. punk scene to embrace the "feminist" tag.
Their small discography contains multitudes; on their debut album they careen from the bouncy empowerment of "Adventures Close to Home" to the existential dread noise on "The Void," from the shambolic yips of "In Love" to a cover of the Kinks' corny "Lola" that transforms it from pat "is she a he?" joke to an anthem for future generations of queer artists. Their next album, 1981's Odyshape, is even more thrilling, showing that the Raincoats were intent on breaking through the parameters of punk to further the resonance of their songs: there's the rush of violin and roiling drums on the poignant "Shouting Out Loud," the piano ballad turned hushed skank of "Dancing in My Head," a heartbreaking lullaby plucked out on kalimba for "Only Loved at Night."
Reactions to the Raincoats tend to run binary. Ears either open up to their sound or agonize over their amateurish attempts. They appear as a talking point in Mike Mills's 20th Century Women. There's Dorothea (played by Annette Benning) her face sour as she watches her teenage son and a boarder in her home (played by Greta Gerwig) dig the Raincoats' first single "Fairytale in the Supermarket" with all its screeches, shouts, and somersaulting drums. "Can't things just be pretty?" she asks over the din, leading Gerwig to point out that such a sound is "what happens when your passion is bigger than the tools you have to deal with it." Such divisiveness defines the Raincoats in the present moment. Playing back their first album the other week elicited a scowl from my wife and a happy bobbing from my infant daughter.
Even though they disbanded after 1984's world music–influenced Moving, the Raincoats soon became an impetus for generations of American indie musicians, from Bikini Kill to Sleater-Kinney and Nirvana. As Black Sabbath was to grunge in Seattle, so were the Raincoats to Olympia, inspiring the likes of K Records and Riot Grrrl. From there, the Raincoats have wound up as cool touchstones in movies like 10 Things I Hate About You and the aforementioned 20th Century Women. But what is it about the band that makes them perpetually ripe for rediscovery? Along with fellow punks the Slits — the subject of the forthcoming documentary Here to Be Heard: The Story of the Slits — there's a constant struggle to keep these women in the annals of punk music.
"Hidden from history," is how former British journalist and NYU's punk professor Vivien Goldman puts it in that film, suggesting that while the likes of the Sex Pistols, the Ramones, and the Clash are forever icons in the punk firmament, their female punk counterparts have to constantly fight for inclusion and reverence. Otherwise women revert back to silence. It's telling that when the Times ran a big story in September on underground rock's revitalization at the hands of dozen of female-fronted bands, Sadie Dupuis of Speedy Ortiz admitted that her inspiration to pick up a guitar and make her own music came not from hearing Patti Smith, the Slits, and the Raincoats, but from the film Josie and the Pussycats: "It's sort of telling that the example I use is a fictional band."
Now that their music is readily available, the Raincoats have exerted considerable influence in the 21st century, their defiant example touching the likes of the Gossip, Angel Olsen, Speedy Ortiz, Sheer Mag, Downtown Boys, Merchandise, and more. "I learned about the Raincoats from the movie 10 Things I Hate About You," Priests front woman Katie Alice Greer wrote via email. "The way the script was written, I understood they were being name-dropped as a marker of Cool And Obscure™, which was like proto-clickbait specifically designed for me as a probably insufferable wannabe-pretentious 13 y/o music fan."
But in addition to being cool and obscure, there's something more resonant in the Raincoats' lyrics and the fumbling democracy of their songs, with no one instrument ever taking the lead, no one voice dominating the others shouting along. "Listening to [the Slits' Cut and Raincoats' debut] really felt like I'd found a photo album of family members oft-talked-about but that I'd never seen before," Greer said. "It felt very personally epic and significant." Carrie Brownstein, guitarist for Sleater-Kinney and comedic star in her own right, recalls in Pelly's book that with regards to the Raincoats, "there was this mythic quality and a tacit understanding … even though we didn't know those people."
Onstage that night at the Kitchen, there was an aura around both da Silva and Birch, like matriarchs who had made their own way through life by their own rules. They might have been the eclectic aunts in your family, exuding a beatific air of having lived a life wholly on their own terms. Gina marveled before the crowd of beaming young women and bespectacled men that — some 40 years on from the band's first live gigs in London — "it's so great to be in this relationship with people inspired by what we do."
When Priests recently played in London along with Downtown Boys and Big Joanie, the Raincoats showed up backstage. And da Silva noted that all the drummers on the bill that night were women, which even at the height of '70s punk was a rarity. "Which I guess is ultimately kind of a cool thing, right?" Greer enthused. "I told her, 'Hey, you're right, I hadn't even noticed!'" Such is the Raincoats revolution, almost escaping notice, yet surely bringing about change.